Countdown to Christmas 12/14/2019: Snowball #4 Quilt Block
Snowball #4 Quilt Block
Cutting Requirements for 12″ finished block (scant 1/4″ seam allowance):
(Ed. Note: This is a scrappy quilt block, so just choose whatever scraps you want to use & cut your bits and pieces out of them. Just so you end up with the quilt block shown above.)
Peach, Lilac, Green, Mint Green, Yellow, Pink, Light Turquoise, Purple & Light Peach: Cut ONE (1) 4 1/2″ square of EACH color. (Each one of these squares is paired with the White 2″ squares & will make a total of NINE (9) Snowball Corners as needed for this quilt block.)
White: Cut THIRTY-SIX (36) 2″ squares. On the back side of the squares draw a diagonal line, corner-to-corner, ONE (1) time.
Snowball #4 Quilt Block Diagram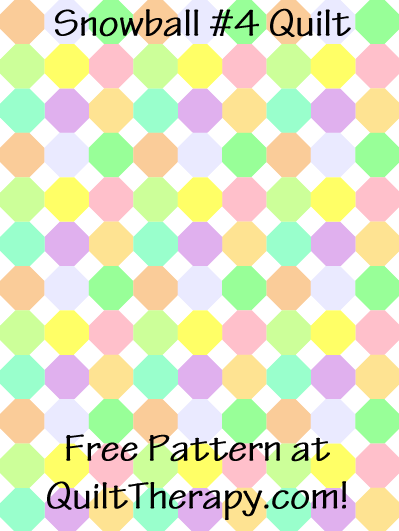 Snowball #4 Quilt

If you make TWELVE (12) "Snowball #4 Quilt Blocks," you will end up with the quilt top pictured above. The size will be 36″ x 48″ finished, 36 1/2″ x 48 1/2″ unfinished.