Since February 1st falls on a Sunday (and I don't blog on Sundays), I'll introduce you to the "Modern Framed Classics:  Bright and Beautiful" 2015 block of the month quilt, Block #1 today.  Remember, the pattern for this block will be available on February 1, 2015 at BOMquilts.com.
This is Block #1:
I hope you join me in making this really fun block of the month quilt this year!
QuiltTherapy.com and myself were featured in an article on a Yahoo! channel this past week:  Ditch the Prozac, Take up Crafting
I take my Quilt Therapy very seriously.  When I was living in my fourth foster home, which also happened to be in the home of an aunt and uncle, when my uncle needed to work things out in his head, he would shine all of his dress shoes.  My aunt would make bread.  For me, it's Quilt Therapy.  When I need some time to myself to think things over or just to find my focus, I can be found in my sewing room.  Every single facet of quilting, for me, is therapy.
If you need professional therapy, please get help.  If you need to have some special alone time to deal with life's little foibles, try your own version of Quilt Therapy!
I set our Christmas dinner table with a table runner I had designed and made a number of years ago (Holly Jolly Funtabulous Star Quick Table Runner from BOMquilts.com) and when it was time to put the Christmas decorations away, I realized how much I really loved the size of that table runner for our table.  So, I declare that for 2015, I will design and showcase at least six new free table runner patterns on BOMquilts.com.
So let's start January 2015 with a previous table runner I designed so I can work on a new one for February – and this one is also one of the wider ones I've designed, too!  This is perfect for non-holiday weeks/months and is so very beginner friendly, with all straight pieces to put together: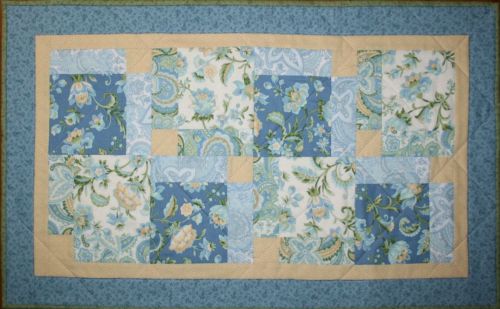 Subtle Skies Table Runner designed by TK Harrison from BOMquilts.com
It's time to set my goals for my charity quilts for 2015!  In 2014, one of my goals was to make a dozen quilt tops for my church's Lutheran World Relief (LWR) efforts.  I had a couple other goals that I did not follow through with all year long. 
  I don't want to end up in that position for 2015 so I took some down-time this past weekend to cut out focus on what I was capable of and what was more realistic for me, given my current state with MS.  Over this past weekend, I was able to cut four or five 21″ quilt squares for my LWR efforts.
What are YOUR goals for charity quilts for 2015?