Countdown to Christmas 12/17/2018: Snowball #4 Quilt Block
Snowball #4 Quilt Block
Cutting Requirements for 12″ finished block (precise 1/4″ seam allowance):
(Editor's note: This is a scrappy quilt block, so just choose whatever scraps you want to use, and cut your bits and pieces out of them, so you end up with the quilt block shown above.)
Peach, Lilac, Green, Mint Green, Yellow, Pink, Light Turquoise, Purple & Light Peach: Cut ONE (1) 4 1/2″ square of EACH color.
White: Cut THIRTY-SIX (36) 2″ squares. On the back side of the squares draw a diagonal line, corner-to-corner, ONE (1) time.
Snowball #4 Quilt Block Diagram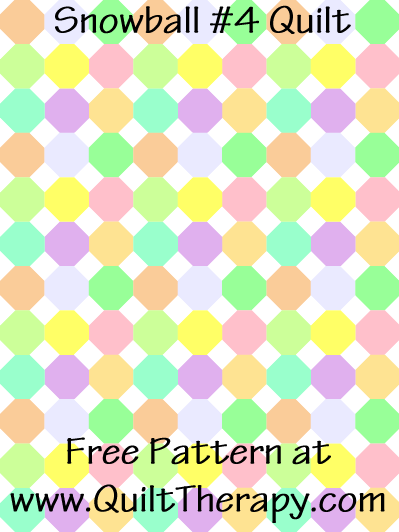 Snowball #4 Quilt


Text for Quilt Pattern: If you make TWELVE (12) "Snowball #4 Quilt Blocks," you will end up with the quilt top pictured above. The size will be 36″ x 48″ finished, 36 1/2″ x 48 1/2″ unfinished.