It's "Monkey Business" Time at Quilt Dash this Month!
Remember playing that game when you were a little kid? The one about monkey's jumping on the bed? That's what this quilt personifies! There's no reason why you can't jump on top of it, while it's lying on your bed & relive your childhood! Who's to stop you from doing it now 🙂 ?!! You have to find all the fun you can wherever & whenever you have a chance!
This month, "Monkey Business" is the free pattern that members earn,
for completing the Quilt Dash.
Just look at these two "Monkey" quilt blocks & how they go together like two birds of a feather…errr…they're not bird blocks but "Monkey" blocks 🙂 !
This quilt's not too difficult to make if you're a confident beginner!
You also need to make sure you can keep your fabric colors in order. There's a Beige & a Tan. A Brown & a Dark Brown. If you can make Half-Square Triangles & a number of Square in a Square's then this quilt's a snap to put together!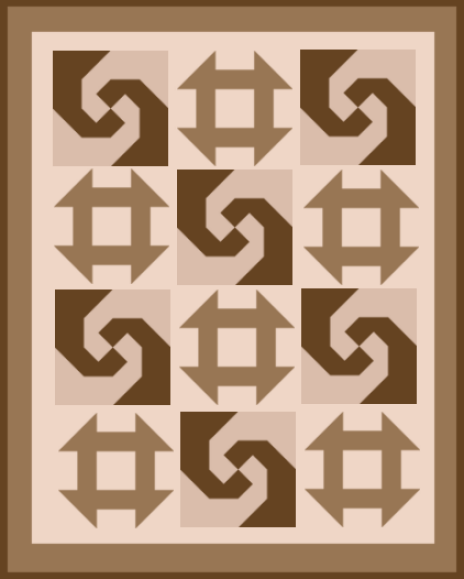 "Monkey Business"
This traditionally pieced quilt measures 49″ x 62" when finished.
The quilt blocks are 13" square finished & 13 1/2" square unfinished.
In order for you to download this free pattern, all you need to do is to create a new account (or login to your current account) at QuiltDash.com & click on the link that says "Join the QuiltDash" (no quotes). Once you've done that, you just need to search for the images on the shops/websites/blogs who are participating in this month's Quilt Dash. It's really quite simple & a fun thing to do! Not to mention you get to look at some lovely quilty fabrics that you may just want to purchase (I promise not to tell anyone 🙂 )!