My 2021 Block of the Month (BOM) Quilt
Featured on my sister-site BOMquilts.com!
Finished quilt = 81" Square
Unfinished quilt size = 81 1/2″ square
Thus far the "Amish Star" Quilt Block is the only quilt block that's been revealed!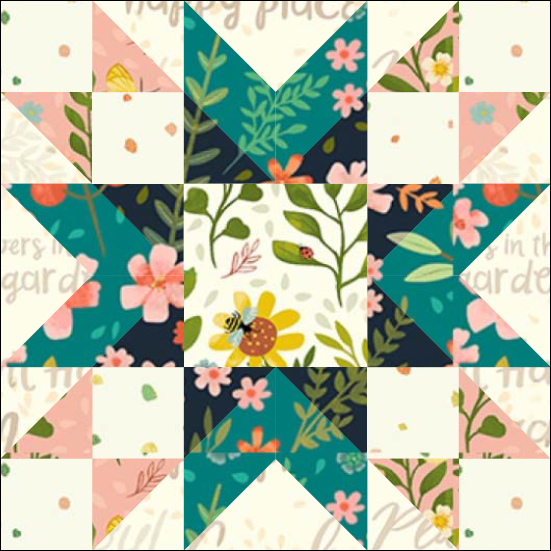 "Amish Star"
This is the center medallion of the "Graceful Garden" BOM Quilt!
It's 36″ square finished & 36 1/2″ square unfinished.
This week the "Stars & Pinwheels" Quilt Block's been revealed!
There are still SEVEN (7) additional quilt blocks left to be revealed! Plus the finishing instructions. Since they're large quilt blocks they'll sew together quickly & you'll have a finished quilt by the end of the year! That is if you can keep up with me! 🙂
Pinwheels & Stars Quilt Block
Once again, my 2020 BOM quilt is sponsored by:

Abbi May's Quilt Shop!
I just love Linda & her team! If you haven't shopped with her I'm sure you will, too! She only has five "Graceful Garden" kits left, made out of the "Garden Notes" quilt fabric, available this year. If you want one you'd better order it sooner than later!
"Graceful Garden" is a traditionally pieced block of the month quilt, featuring the "Garden Notes" fabrics, designed by Diane Neukirch for Clothworks Fabrics!