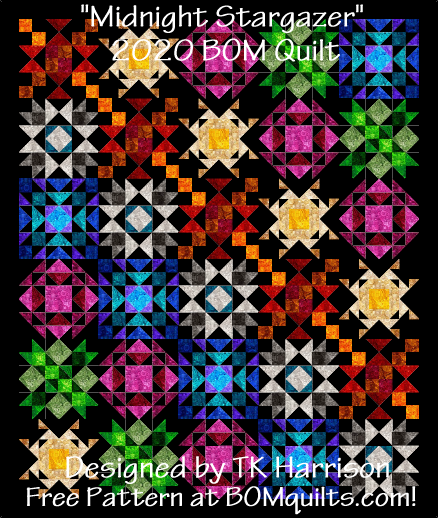 "Midnight Stargazer" 2020 Block of the Month Quilt. An Original Design by
TK Harrison, Owner of BOMquilts.com
Remember this quilt? This amazing, beautiful, wonderful, eye-popping, luscious, astonishing, astounding, awesome, breathtaking, fabulous & spectacular quilt 🙂 ?
The second part of the pattern has been published!
It's a very important part of the pattern, too.
There are 29 different fabrics, that make up this quilt top & without this second part you'll be completely lost! Because it names & assigns numbers to each & every fabric that's in this quilt top.
Here's just a sample of some of the fabric colors:
See what I mean? Without the second part of the "Midnight Stargazer" 2020 BOM quilt pattern, you're going to get lost & we don't want that to happen. Then what would you do?
Well, maybe that could be a good thing. Just think…you could let your fingers do the shopping at Abbi May's Fabric Shop! She's got a whole lot of fabrics there & they're always 10% below MSRP! Plus, she's the only sponsor of my "Midnight Stargazer" quilt pattern & she deserves a whole lotta love for sponsoring it 🙂 !