Enjoy St. Patrick's Day with the "Luck of the Irish" with Lucky Shamrocks!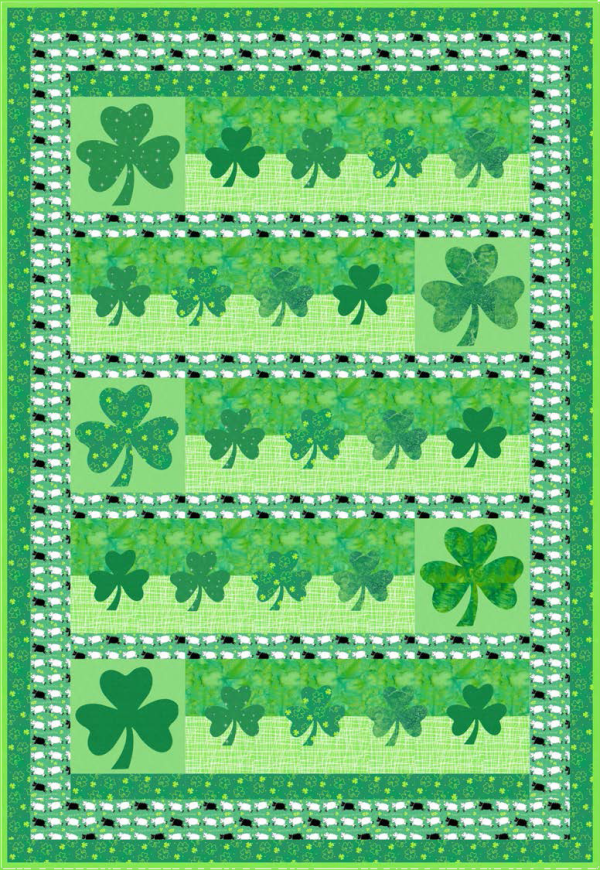 "Clover Medley"
Designed by Phyllis Dobbs
This traditionally pieced & appliquéd quilt measures 51″ x 74 1/2" when finished.
The quilt blocks are 10" finished & 10 1/2" unfinished.
This "Clover Medley" quilt pattern features appliquéd Shamrocks in TWO (2) sizes to form an asymmetrical quilt. Use your scraps or precuts for the Shamrocks to give it a scrappy look!
Here's a closer look at one of the appliquéd quilt squares:
Here's a row of the pieced background with some more appliquéd Shamrocks:
They speak St. Patrick's Day in a big way!

One row with borders would make a festive table runner for a St. Patrick's feast!
– – – – – – – – – – – – – – – – – – – – – – – – – – – – – –
In order for you to download this free pattern, all you need to do is to create a new account (or login to your current account) at QuiltDash.com & click on the link that says "Join the QuiltDash" (no quotes). Once you've done that, you just need to search for the images on the shops/websites/blogs who are participating in this month's Quilt Dash. It's really quite simple & it's a fun thing to do! Not to mention you get to look at some lovely quilty fabrics & notions that you may just want to purchase (I promise not to tell anyone 🙂 )!