It's All About the "Twinkling Stars" Over at Quilt Dash this Month!
Wrap yourself in some quilty stars so you'll dream of the wonders above us! This is a big block quilt that's perfect for chain stitching! It may look complicated, but if you can sew Half-Square Triangles, you're good to go!
There are just two blocks in this "Twinkling Stars Quilt Pattern" so feast your eyes on these beauties:
If you've been following my blog for very long, I'm pretty sure you've seen these before! But the ones that are featured in my "Star Power" Gallery are 12″ square finished and these shown above are 16″ finished. Like I said above, "This is a big block quilt!"
In order for you to download this free pattern, all you need to do is to create a new account (or login to your current account) at QuiltDash.com & click on the link that says "Join the QuiltDash" (no quotes). Once you've done that, you just need to search for the images on the shops/websites/blogs who are participating in this month's Quilt Dash. It's really quite simple & a fun thing to do. Not to mention you get to look at some lovely quilty fabrics that you may just want to purchase (I promise not to tell anyone)!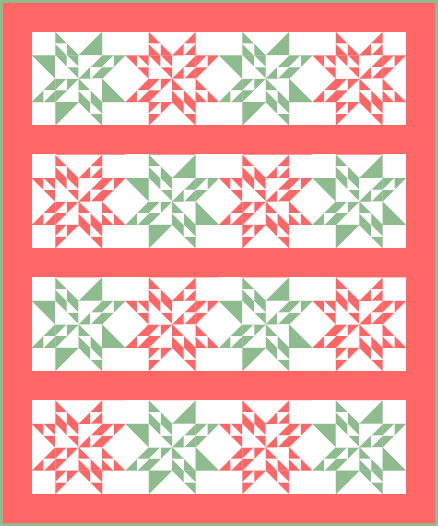 "Twinkling Stars Quilt Pattern"
This bold & beautiful & traditionally pieced quilt measures 74″ x 89″ when finished.
I'm a Texan & there's nothing I like better than making a big quilt with big blocks. That's just the way I roll! Besides, haven't you heard the saying? "Everything's bigger in Texas!" 🙂
Come on over to QuiltDash.com & join me in this fun game! And remember…there's a little thing known as the "Twinkling Stars Quilt Pattern" that's yours if you complete the Quilt Dash!!!