Quilt Dash is "Sailing Away" this Month!
Ah, summers! Picnics, family, cookouts. Getting together at the water's edge to camp out & run your sailboats. The paper kind or the real ones! 🙂 That's what summers are all about!
For the July Quilt Dash, the free pattern that's available to members who complete the Quilt Dash, this is what the pattern looks like:
A pieced quilt pattern
Size 54 3/4" W x 78 1/4" H
Sailing Away makes a cute quilt for a boy or for an adult sailor. Constructed with pieced sailboat blocks, this pattern is easy to adjust to make it larger or smaller. You can also use your scraps to make it scrappy looking.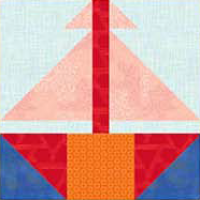 Isn't it just too cute!?! The size of the quilt blocks are
10″ square finished &
10 1/2″ square unfinished.
If you're already a member of Quilt Dash then all you need to do is to click on the link that says: "Join the QuiltDash" (no quotes).
If you're not a member then it's high time you become one, don't you think? Even if it's just for the free pattern! Becoming a member is really quite simple as long as you follow the instructions. Just head on over to Quilt Dash & sign up to become a member & then "Join the QuiltDash" (no quotes) for the July "Sailing Away" game!