My New 2021 Block of the Month (BOM) Quilt
Featured on my sister-site BOMquilts.com!
Finished quilt = 79" Square
Unfinished quilt size = 79 1/2″ square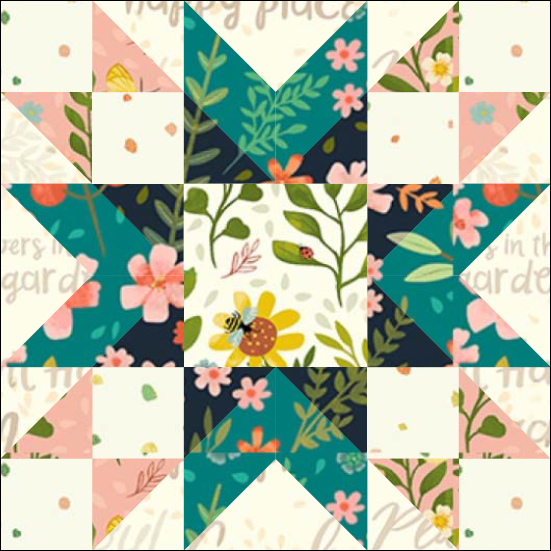 Amish Star Quilt Block
This is the center medallion of the "Graceful Garden" BOM Quilt!
It's 35″ square finished & 35 1/2″ square unfinished.
These are the quilt blocks that make up the "Graceful Garden" 2021 BOM Quilt! Aren't they gorgeous! Amazing! Beautiful! Delightful! 🙂
This is a big block quilt!
It won't take long to sew it together, whether you're new to paper piecing, or an old pro at it!
The finished block's size's are 17 1/2″ square.
The unfinished block's size's are 18″ square.
Once again, my 2020 BOM quilt is sponsored by:

Abbi May's Quilt Shop!
I just love Linda & her team! If you haven't shopped with her I'm sure you will, too! She only has six "Graceful Garden" kits, made out of the "Garden Notes" quilt fabric, available this year. If you want one you'd better order it sooner than later!
"Graceful Garden" is a paper pieced block of the month quilt, featuring the "Garden Notes" fabrics, designed by Diane Neukirch for Clothworks Fabrics!
The "Fabric Requirements" were posted on January 20, 2021 at BOMquilts.com!
Which means that you should have your "Graceful Garden" quilt top finished by the end of the year! Especially if we're quarantined, for most of 2021, like we were for most of 2020!