This Quilt is the Perfect Gift for the Valentine in Your Life!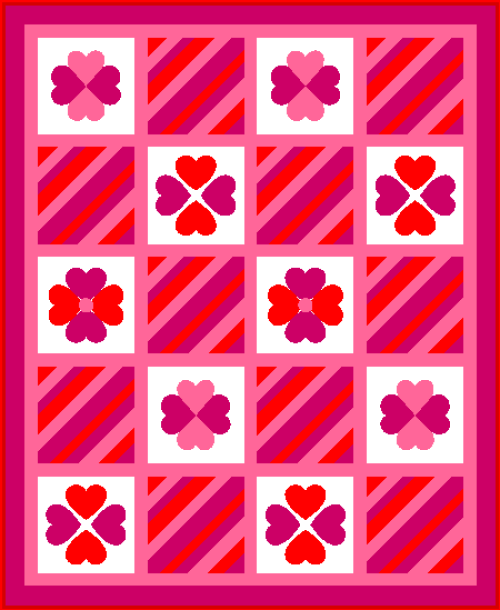 "Heartstrings"
Designed by TK Harrison (that's me 🙂 )!
This traditionally pieced & appliquéd quilt measures 77″ x 94" when finished.
The quilt blocks are 15" finished & 15 1/2" unfinished.
There are only three appliquéd quilt blocks in this quilt:

Flower Heart Quilt Block
All three should sew together quickly. Especially if you choose to do raw edge appliqué!
Then there's the "String" Quilt Blocks:
If you use the Sew n' Slash Method of sewing this block together, you'll have all 10 of them sewn, in no time at all! Especially if you use the scraps in your stash & not necessarily the exact fabrics in my pattern!
– – – – – – – – – – – – – – – – – – – – – – – – – – – – – –
In order for you to download this free pattern, all you need to do is to create a new account (or login to your current account) at QuiltDash.com & click on the link that says "Join the QuiltDash" (no quotes). Once you've done that, you just need to search for the images on the shops/websites/blogs who are participating in this month's Quilt Dash. It's really quite simple & it's a fun thing to do! Not to mention you get to look at some lovely quilty fabrics & notions that you may just want to purchase (I promise not to tell anyone 🙂 )!