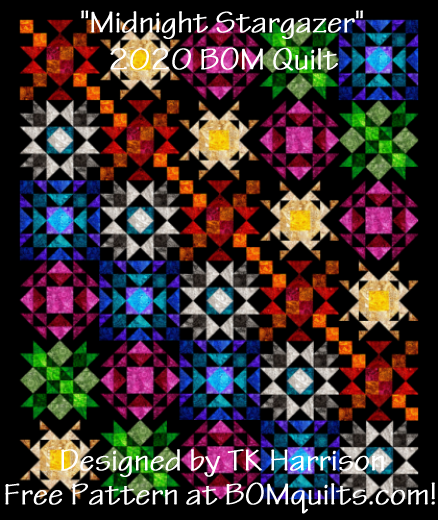 "Midnight Stargazer" 2020 Block of the Month Quilt. An Original Design by TK Harrison, Owner of BOMquilts.com!
Finished Size = 67″ x 79″
Block size = 12″ finished & 12 1/2″ unfinished
Remember this quilt? This amazing, beautiful, wonderful, eye-popping, luscious, astonishing, astounding, awesome, breathtaking, fabulous & spectacular quilt 🙂 ?
If you've followed along, (throughout 2020) these final instructions will be all you need, to finish your "Midnight Stargazer" BOM quilt!
All six quilt blocks that make up my 2020 "Midnight Stargazer" BOM quilt have been revealed!
Don't they all look great? Rich? Luxurious? Oh, wait! I've already used a lot of adjectives to describe them! 🙂 But they really do look grand together using the "Bohemian Rhapsody" quilt fabrics designed by Dan Morris for QT Fabrics!

Huge kudos to my most quiltalistic, quiltabulous 2020 "Midnight Stargazer" BOM (& all the way back to 2006) quilt sponsor AbbiMays.com!
And if you feel like letting your fingers do the shopping (and who doesn't 🙂 when they're stuck at home?) all of her fabrics are always 10% below retail price!