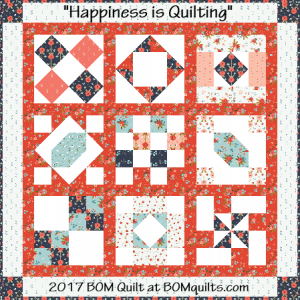 "Happiness is Quilting" 2017 Block of the Month Quilt.  An original quilt designed by TK Harrison from BOMquilts.com!
---
The Quilting Ministry of Manahawkin Baptist Church, New Jersey call themselves the Sewing Sisters. Our town is very close to the beach.
We have been meeting for many years off and on and some of our women are involved in a summer sewing camp for the girls at church eight and older.
In 2011 I was asked by a mom to start a sewing group for young girls. Sewing seems to have skipped a generation. After much prayer and trepidation, a one week summer camp for girls ages eight to 16 was formed. Many of my sewing friends said "Yes" and volunteered as leaders. Over the past 11 years we have made quilts using charm squares, a rag quilt and a recently a race quilt. Along with many cool items the girls like to wear, use or give away.
In 2018 I invited the ladies in our church to join me in a mystery quilt class. About 11 ladies responded.
We Sewing Sisters enjoy sewing charity quilts, nursing home bags, pillowcases for cancer patients, craft items to sell to raise money for missions at our church and other fun projects.
Our ladies have a strong bond of love. We share devotions and pray with and for each other as life throws troubles our way. God is faithful in all our circumstances. He has truly blessed our ministry.
~*~
Margot A.
Here's a look at the "Happiness is Quilting" Quilts that the Sewing Sisters Made:

"Happiness is Quilting" Sewn by Margot A., Evelyn H, Diane R, Nancy A., Maria R. & Sue K.
Such talent amongst the various members of the Sewing Sisters of the Quilting Ministry of Manahawkin Baptist Church! Thanks for sharing these wonderful, gifted & colorful creations with us!