"Midnight Stargazer" Pattern Part #7 has Been Revealed!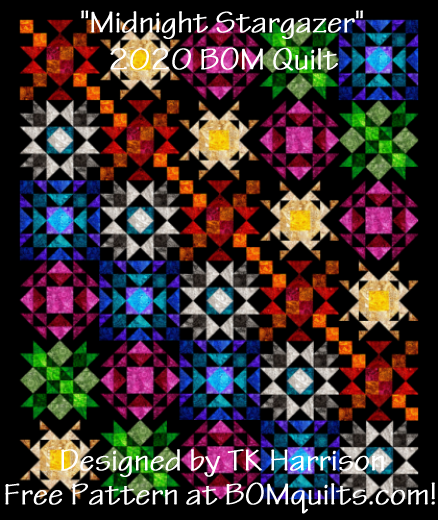 "Midnight Stargazer" 2020 Block of the Month Quilt. An Original Design by TK Harrison, Owner of BOMquilts.com!
Remember this quilt? This amazing, beautiful, wonderful, eye-popping, luscious, astonishing, astounding, awesome, breathtaking, fabulous & spectacular quilt 🙂 ?
Finished Size = 67″ x 79″
Block size = 12″ finished & 12 1/2″ unfinished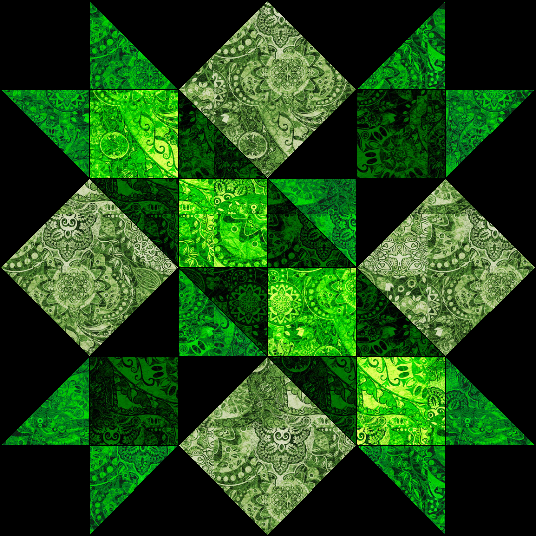 "Kansas Star"
Block #4 of the Midnight Stargazer 2020 BOM Quilt
One of the fabrics in this quilt block is called "Money" & I bet you can pick it out when you look at this quilt block! The vibrant greens paired with the deep greens makes this quilt block stand out amongst the crowd!
If you can sew some Half-Square Triangles & Square in a Squares then you shouldn't have any trouble sewing this quilt block together! Especially since (if you've already been making this quilt) you've already sewn both Half-Square Triangles & Square in a Squares for some of the previous blocks that have been revealed thus far!
Here's a look at the first three blocks that have been revealed thus far plus the "Kansas Star":
Don't they all look great? Rich? Luxurious? Oh, wait! I've already used a lot of adjectives to describe them! 🙂 But they really do look grand together using the "Bohemian Rhapsody" quilt fabrics designed by Dan Morris for QT Fabrics!

My fantastic, wonderful & fabulous sponsor AbbiMays.com has completely sold out of her "Midnight Stargazer" quilt kits! That's great new for her & not so great new for those who missed out on purchasing one. But do not fear! If you want to make my 2020 "Midnight Stargazer" BOM quilt, Linda at AbbiMays.com, will surely help you put a quilt kit together so you can make this beautiful quilt!
And if you feel like letting your fingers do the shopping (and who doesn't 🙂 when they're stuck at home?) all of her fabrics are always 10% below retail price!