Introducing "Harry Loves Alice"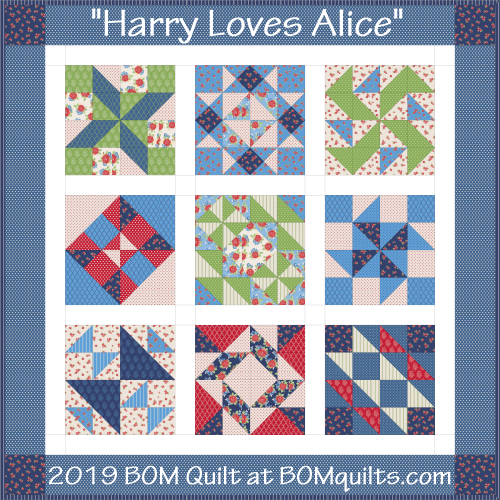 "Harry Loves Alice" 2019 Block of the Month Quilt.
An Original Design by TK Harrison, Owner of BOMquilts.com
When I first laid my eyes on this eye candy fabric, the first thing that came to my mind was the movie Harry Loves Sally. Then when I got my hot little quilter's fingers on the fabric, my design just materialized from out of nowhere. Well it came from somewhere, but I let the fabric do the talking for me and the quilt image shown above is what I came up with.
Abbi May's Fabric Shop has been sponsoring my BOM quilts, and many other quilts that I design, since 2006. Please show Linda some love by purchasing the "Harry Loves Alice" quilt kit from her.

This is the new (and did I mention free?) 2019 block of the month (BOM) quilt for my sister-site, BOMquilts.com. The fabrics are bold and bright, fun and festive and even a little bit romantic, too! It's an 11-part BOM quilt with one block pattern instruction revealed on the 20th of each month. If you follow along each month, you will have a quilt finished by Christmas next year! Woo Hoo!
The fabric requirements will be posted on January 20, 2019. There are nine blocks that compromise the quilt top, then the finishing instructions. Goodness, I don't need to type all of this out! Head on over to my sister-site and read it for yourself. Or better yet, if you haven't 'liked' us on Facebook yet, fell free to do so as I always post there when I update the patterns.
PS: I can't guarantee that you'll have the same…ummm…reaction that Meg Ryan did in the diner, but I can't promise you…won't…either!