When our oldest daughter graduated from high school, I gifted her with a quilt I'd pieced especially for her. It just so happened that the summer before her senior year of high school, I went to Iowa to visit my (third) foster mother. She purchased all of the fabric for our daughter's quilt and I cut it out & sewed it together while I was there. Then I left it with her so she could quilt it by hand.
Now here's a little tidbit you probably didn't know about our middle daughter – she's our "what about me?" kid. Every time we would give her older sister something, no matter what it was, she always looked at us with sad puppy dog eyes and said, "What about me?"
About four years ago, she went with me to a quilt shop. While there, she fell in love with two different fabrics. The first was an antique-looking fabric with all sorts of postcards on it. Not the front of the postcards, but the back of them – the messages, addresses, stamps & postage meter stamps. The second fabric did not match the first as it was not antique-looking but it matched the general theme with stamps and postage meter stamps. Where the postcard fabric had a beige background, the stamp fabric had a white background. I purchased a yard of each and stuck them in a stash bin, knowing I would make a quilt for her out of them someday.
I started her quilt the summer before her senior year, too. Except it was one thing after another that year, so it became a UFO in short order. I'd pull it out and work on it, as time would permit, but I couldn't pull it off in time for her graduation.
It took over a year but about three weeks before she was set to return to college for her sophomore year, she finally asked, "What about my quilt?" I brushed it off, ignored the question, changed the subject, etc. She didn't ask me again. Then, the day before we were set to take her back to college, I surprised her with her graduation quilt – made out of the fabrics that she'd chosen all those years ago & using the Sawtooth Star quilt block pattern.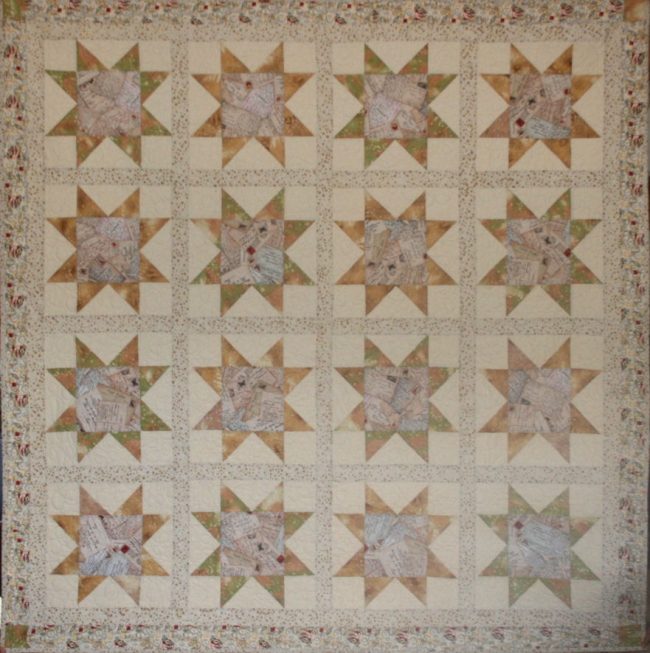 The God moment happened after we started unloading her boxes in her dorm room. Since she had no clue that I was making her a quilt, and no clue what the colors in the quilt were, she had previously purchased sheets for her dorm bed that were the exact same colors as her quilt!