In January 2013, my (third) foster mother decided she'd like to winter with us here in south central Texas. She lives in Iowa and she was so over Iowa winters and had been for many years. She usually went to visit her former sister-in-law in Arizona but she wanted to come stay with us, to get a better feel for our kids and our family dynamics. I had went up to see her in the summer of 2010 with our two younger kids, but she hadn't met my husband or our two older kids. She was more than welcome to spend six weeks with us, we would enjoy her and vice versa!
A couple of months before she arrived, I had received a quilt back from Kathryn Rister. It was my 2012 block of the month quilt from my sister-site BOMquilts.com called "Bittersweet Churning" in jewel-toned fabric colors. It was a beautiful quilt top but was even more beautiful after Kathryn quilted it than it was when I sent it to her. Oh my! She really lets a quilt talk to her, and she listens all the same! I really don't think 'beautiful' is a nice enough word to give to the finished product after Ms. Kathryn finished with it, it was THAT good!!!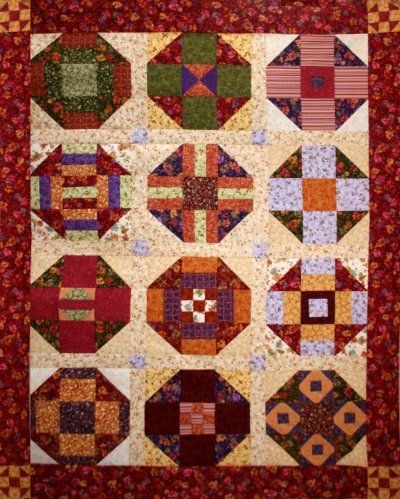 When we knew my foster mother was coming mid-January, my family and I agreed that we'd have a little Christmas with her. When I told her that, she thought it'd be fun, too! And since I'd just received this quilt back from Ms. Kathryn, I felt no one deserved it more than she did!
In July this year, my foster mother suffered a stroke. While in the hospital, she asked her best friend to bring her some of her comforts from home, and one of those things was this quilt that I had gifted to her. Unfortunately, she passed away in early September. However, I wanted to share the love that she and I shared so I asked her daughter, that unless my former foster father had other plans for this quilt, that I'd really like for it to go to my foster mother's best friend.
You know what? Her best friend now has it, and hopefully it will bring her a whole lot of quilty hugs in the years ahead, while braving those cold Iowa winters. And hopefully it will also remind her of the very special relationship that she had with her best friend, who will give her quilty hugs for years to come, and try to talk her OUT of spending those cold Iowa winters…in Iowa! :}