Category Archives:

Free Row of the Month Quilt
I had SO much fun designing and making this quilt! If you are not following along and making it, you can find the free pattern at BOMquilts.com. I used the 1930's retro "Windowsill Garden" designed by Darlene Zimmerman from Robert Kaufman Fabrics colorway. Pastels are my colors! My daughter colored the fabric panels with crayon and I used my iron to heat-set them.
There are only NINE (9) parts to this pattern and I have revealed SEVEN (7) thus far. My goal is to reveal the final two so that everyone who participates has a quilt finished by the end of the year! Woo Hoo!
As in past years, my quilt is sponsored by Aurifil thread and AbbiMays.com. I couldn't ask for better folks to be my sponsors!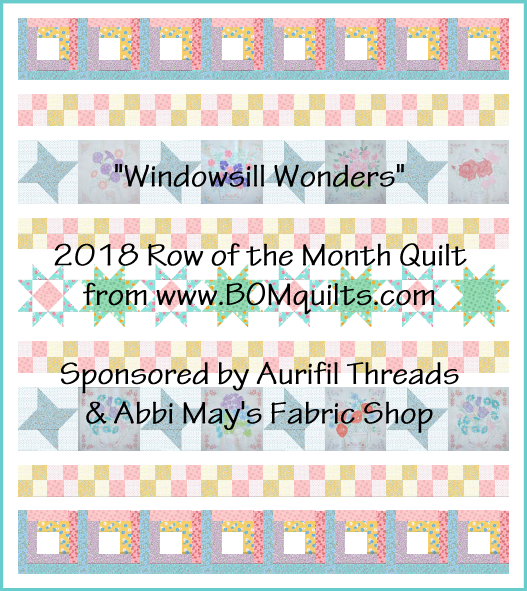 The first set of instructions for my 2018 Row of the Month quilt, "Windowsill Wonders" has been posted at BOMquilts.com! This is Part 1 of two parts for Rows #1 and #9. Next month (April), the instructions for piecing the blocks will be revealed.
And as always, many many thanks to my sponsors – Abbi May's Fabric Shop & Aurifil threads!