Houston Quilt Market with Mark Lipinski
Of course, it had to happen.  Linda wanted to know what Mark's latest fabric line looked like … and I had to meet the infamous anti-quiltzilla of the quilting world – Mr. Mark Lipinski. 
Do you remember my posts about Mark earlier this year?  Yeah, I was sure I was being treated like a red-headed stepchild. 
As luck would have it, I found him in the CK Media booth, autographing copies of the latest Quilter's Home magazine: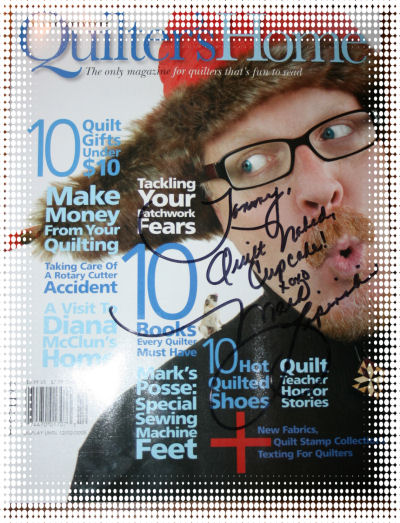 At the same time, I was on the phone with Linda, explaining that JD had taken a phone photo of Mark's latest quilt fabric and he was emailing it to her.  I deplore rudeness, but I was next in line and couldn't hang up on Linda…so, I proceeded to introduce myself, with phone to ear <egad> as "the woman who designed the "Strippin' with the Stars" BOM quilt that he gave credit to someone else on his blog."  He started laughing and said he remembered (can't be sure if he was just playing me for a fool or if he really DID remember) … then he wanted to know who I had on the phone and I told him it was Linda – so, he took the phone right from my hands and had a big ole' conversation with her about my quilt design and that he knew she secretly designed it.
We giggled and guffawed about this and that, and then I asked him if he'd mind posing for a photo opp.  His first words, as he moved me IN FRONT of him, were that he needed to be shown in the back because he didn't want people to see how big he was.  Of course, I'm none-too-small, and wear oversized shirts, so the man could have completely hidden behind me, so we'd have look like a two-headed siamese twin if he'd have wanted to!  Just before my husband had taken the photo, Mark wanted reassurance that I could Photoshop the photo to make him look good. 
"Oh sure, I can do anything!" I replied
So, here's our original photo: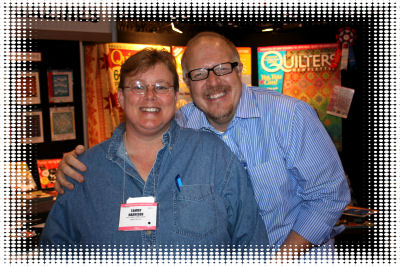 Here's a lovely photo of us, after we'd miraculously lost a few pounds (and we became coneheads):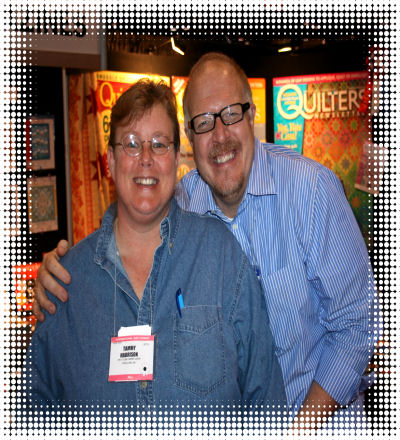 Here's a photo where I gifted Mark with a bit more hair (he didn't know I was a cosmetologist in my younger years):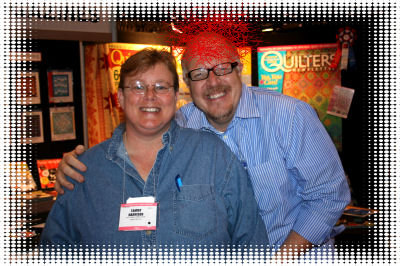 And here's a head-shot, leaving out our voluptuous bods: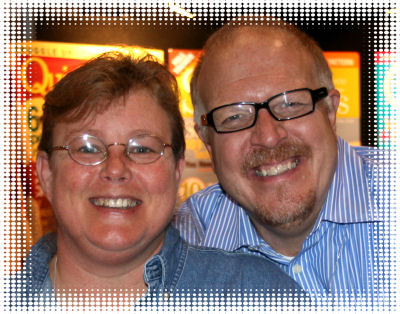 But honestly?  I think this is truly what Mark meant when he asked me to Photoshop our photo: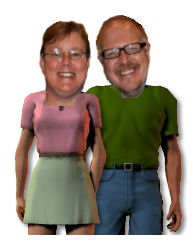 Thanks for taking the time to meet me, Mark – and for tickling my funny bone – you may call me cupcake, only if I can call you TART!