Houston Quilt Market and Pat Sloan
Please forgive my blogging absence last week – I just had too much work to do, to blog.  That's a shame, and although I love my blogging, sometimes work has to come first.  Because JD and I were taking Friday off to head to Houston for the International Quilt Market – and I had to cram my usual five days of work into just four!
We confused a lot of vendors, but we went as representatives and designers of AbbiMays.com, 'cause ya'll know I design a lot of quilts to go with the fabrics that Linda sells at Abbi May's.  But, we were also "sandwich signs" for Quilt Dash, so Karen made us a couple of blocks that match the design we used on the Quilt Dash website and I quilted them and added our name and then sewed them to our shirts.  Here's the model-worthy JD, showing off his lovely shirt for me: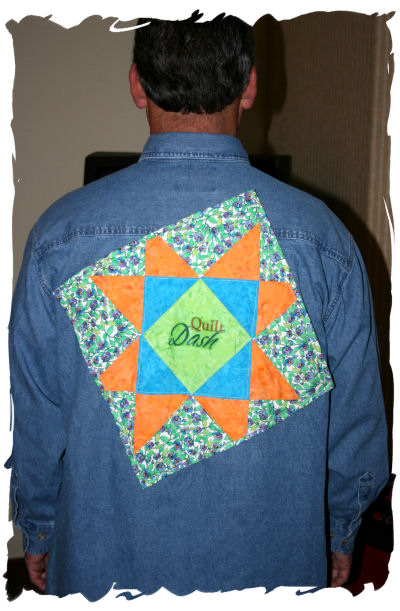 I'm not going to tell you that he had fun, but he did his job of pulling my rolling cart (he kept telling people he was my pack mule) and keeping me on schedule for all of the visits and booths I had to stop at.  He probably would have had more fun walking across broken glass in his bare feet, but he was a trooper! 
One of the first quilting celebs that I need to meet was the lovely, talented and funny Pat Sloan.  Pat donated the Grand Prize for our first "Autumn Colors" Quilt Dash and we've exchanged some fun emails back-and-forth about a lot of things, quilt and non-quilt related.  (Yes Pat, I let him take the time to wash the car before we left, thanks for the advice).
One of the things Pat told Karen (my biz partner with Quilt Dash) and I was that she was battling mice in her home, the mamas were coming in from the fall weather to make nests and have their babies.  Pat was out of town a lot, with all of the teaching and work that she does, so she was having fits about leaving home and coming back to find that the mice had taken over her casa. 
Never fear, Karen and Tammy to the rescue!
A few years ago, Karen had the same problem….but, it was just a single mouse who didn't want to leave.  They decided to leave a sticky mouse trap in one of Karen's shoes … except her grandson Jack felt that they needed some additional coverage … you know, guards for the potential mouse prison: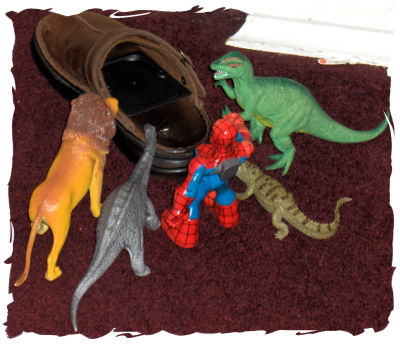 With that in mind, I printed Karen's photo out and begged a dinosaur from my son, and we presented Pat with, I'm sure, the most unique mouse-warming gift she's ever received – her very own guard to help with the mouse traps: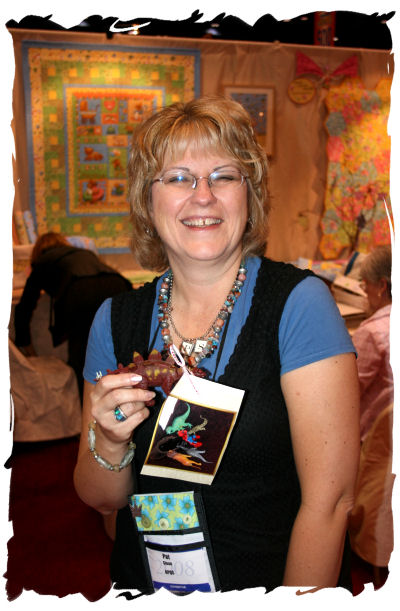 (Pat warned me that she was a squinter when it came to photos – which is true.  But, to be honest, she should just say that she's a smiler – because when she smiles, her whole face smiles!)
Thanks Pat – for taking the time to meet and greet us – and for having as much fun as we've had these past few weeks, sharing Quilt Dash with you!