Tutorial Tuesday: Sew N'Slash Scrappy Pennant Points
The purpose of making a scrappy quilt is…using up your quilt scraps.  Right?  Keeping that in mind, my tutorial today is doing just that – and ending up with some pretty rad quilt blocks, too!
I developed my Sew N'Slash™ method of making quilt blocks in 2009 and have had a blast employing it ever since.  It's almost fool-proof and it makes putting quilt blocks together so much easier than all that precise measuring, cutting and piecing.  The key, with Sew N'Slash™ is all in the final block cuts.
Think of Sew N'Slash™ in terms of piecing a paper-pieced quilt block except without the paper.  That's how I approach it when I use it.  Without further ado, let's get started!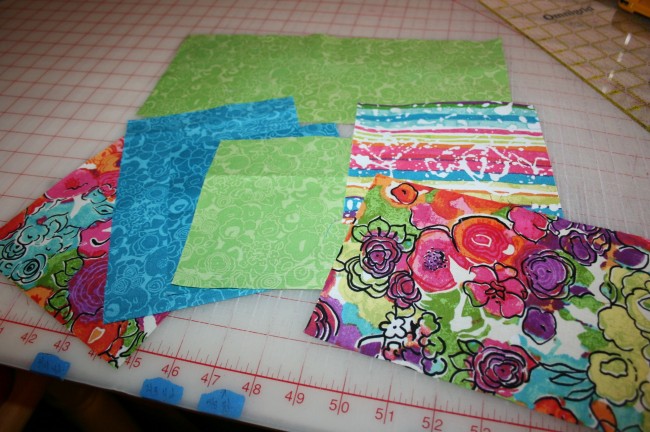 Begin by choosing various fabric pieces for your blocks.  While these fabrics I've chosen are scraps, they are all from the same colorway.  That isn't necessary.  The scrappier, the better!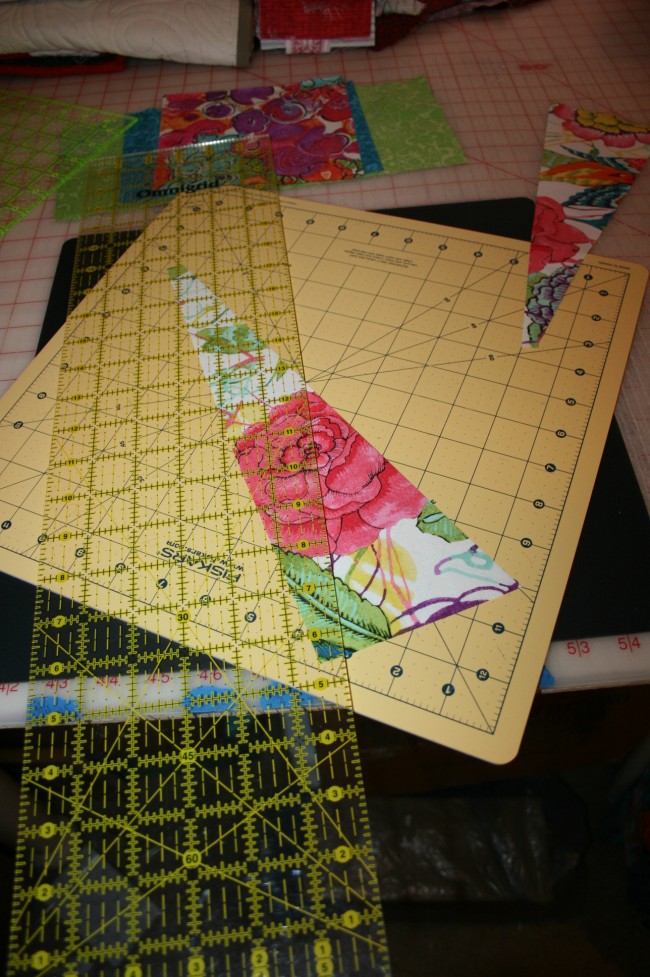 Determine the size you want to make your pennant point.  I decided on 60° angles and about 4 1/2″ unfinished height.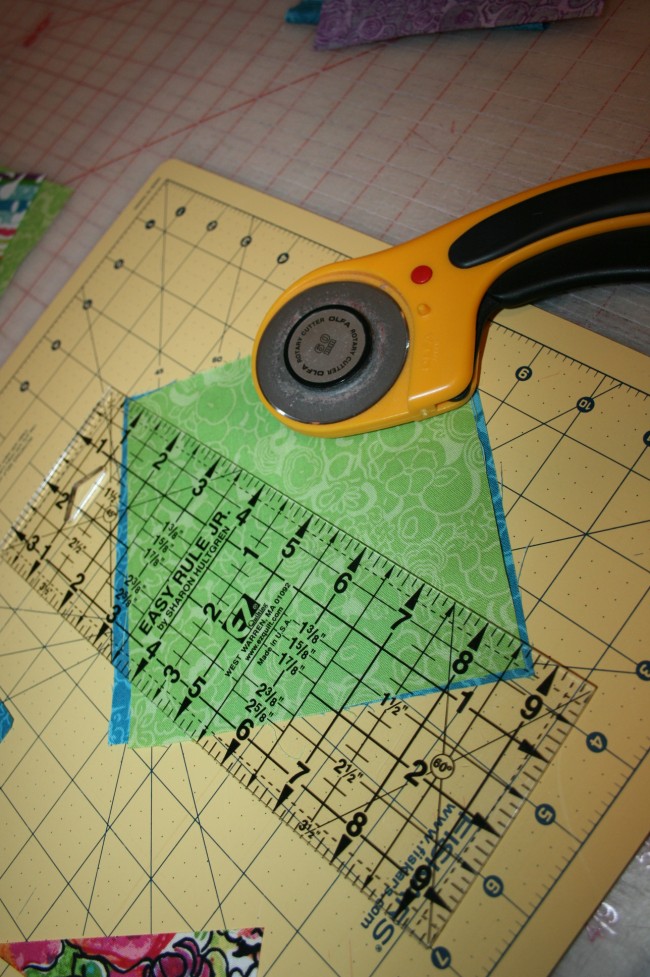 Choose the fabrics you would like to flank your pennant point.  Lay them out with your pennant point to make sure your scrap is big enough, by length and width, to create your desired finished block size.  I found these two squares so cut them diagonally, corner-to-corner, ONE (1) time.  I only need ONE (1) green and ONE (1) blue triangle for a single Pennant Point block.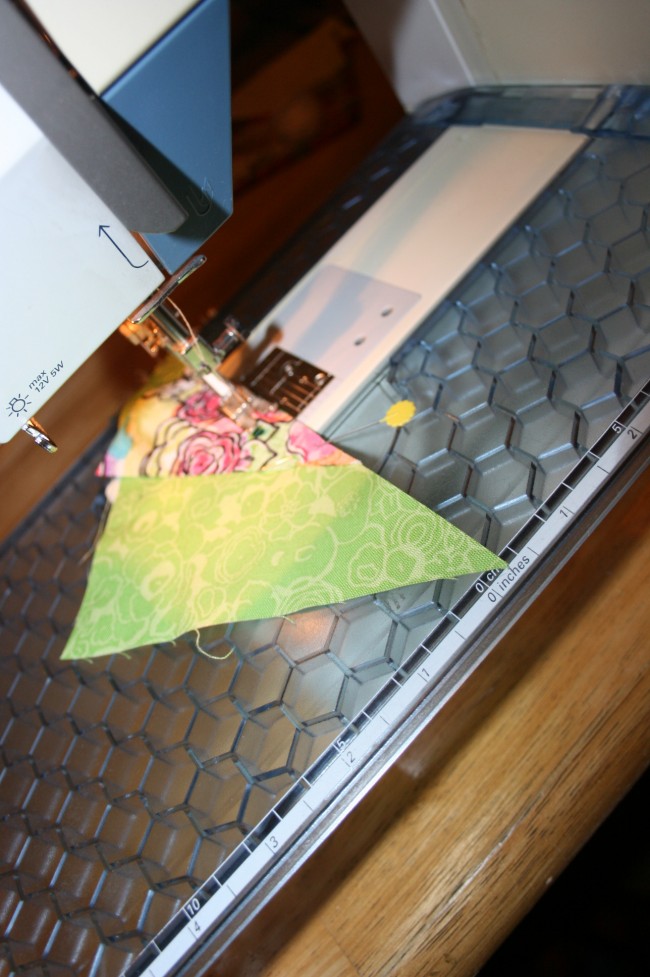 Because I am dealing with triangles that are cut on the bias, I like to starch and press each piece of fabric before doing anything else, to reduce the chances of the fabric stretching.  Then, pin the green fabric to the pennant point and sew together with a 1/4″ seam allowance.  Once done, press toward the pennant point.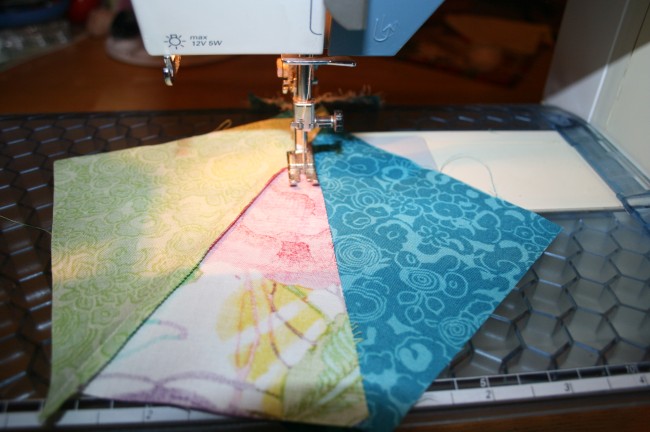 Repeat the same sewing process to the opposite side of the pennant point (pins optional).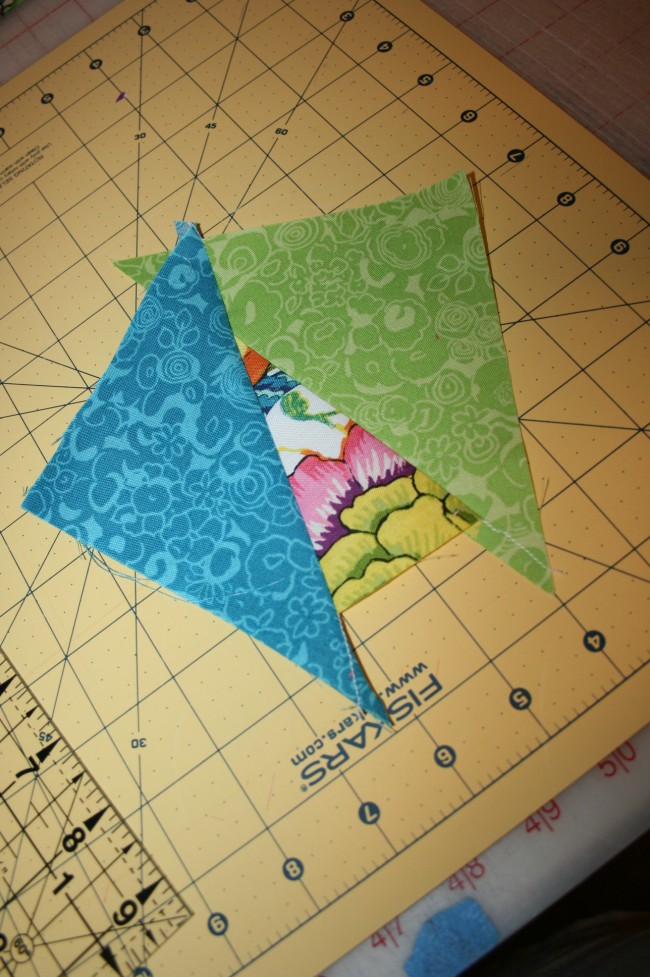 Once pressed, this is what your pennant point looks like with the two flanks sewn on.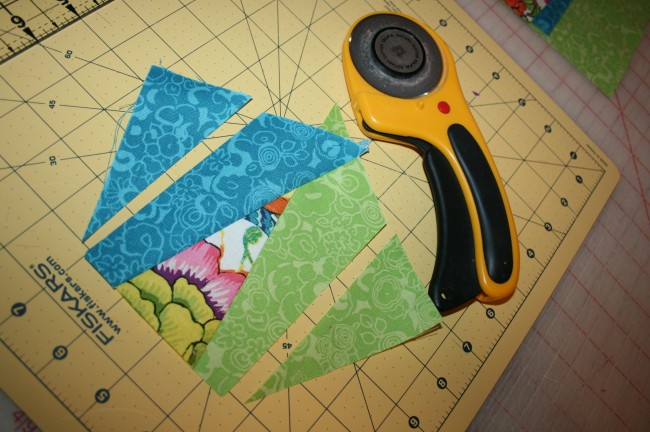 It's time to trim the excess fabric!  My unfinished block size is 3 1/2″ wide by 4 1/2″ long.  Using my rotating cutting board (such a quilt-fabulous invention!), I square up my block to my desired dimensions.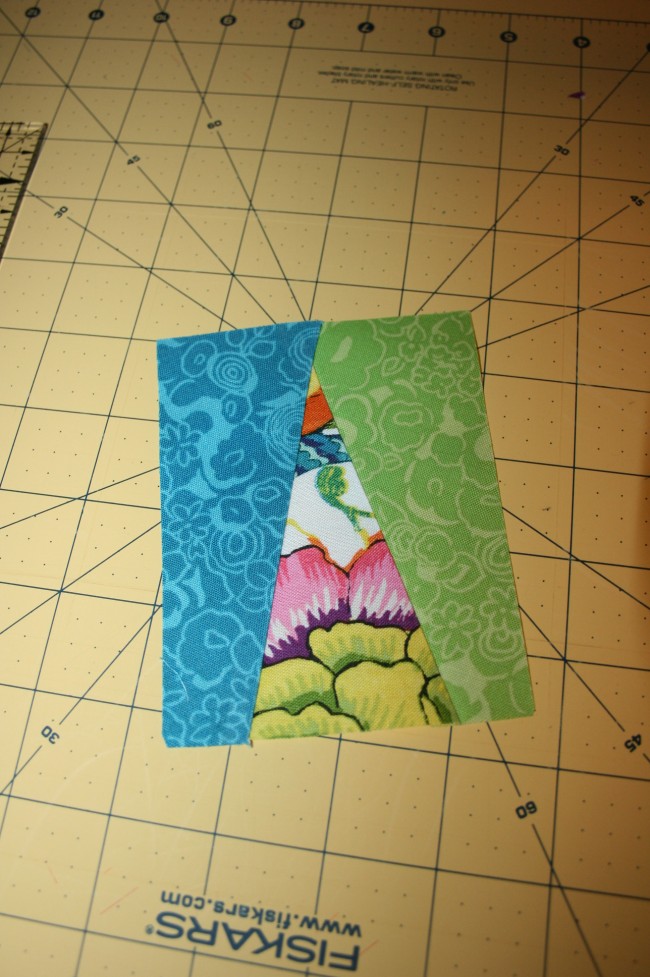 After another quick spray of starch and pressing it with a hot iron, this is the finished Pennant Point block!  Repeat the process and make another one (or more).  It is always quicker to chain piece a number of blocks but if you are trying to perfect your own Sew N'Slash™ abilities, just make one or two at a time.  It does get much easier with practice!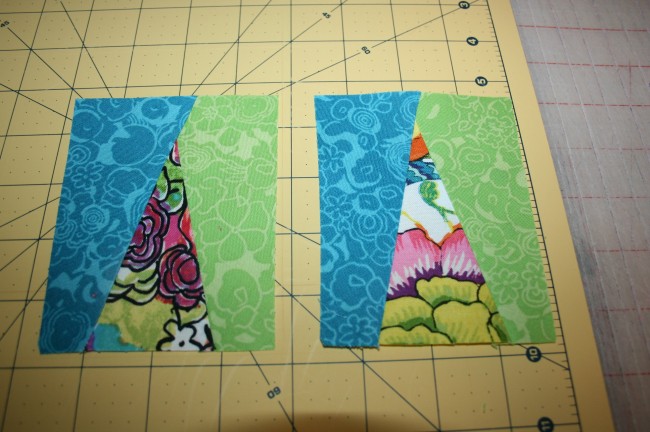 Ta-da!  Two Pennant Point blocks using my Sew N'Slash™ method.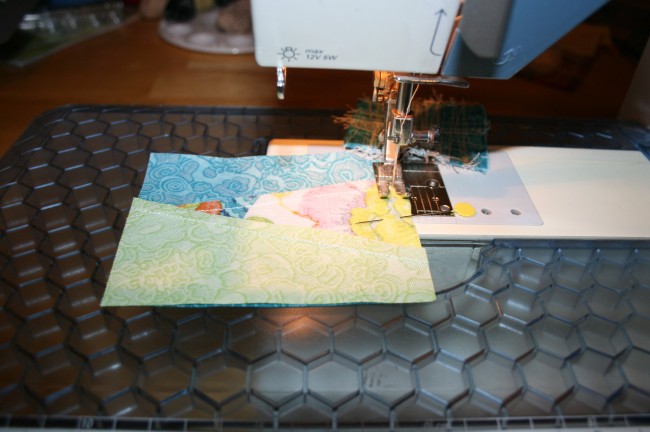 Pin the two Pennant Point blocks, right sides together, and sew them together with a 1/4″ seam allowance.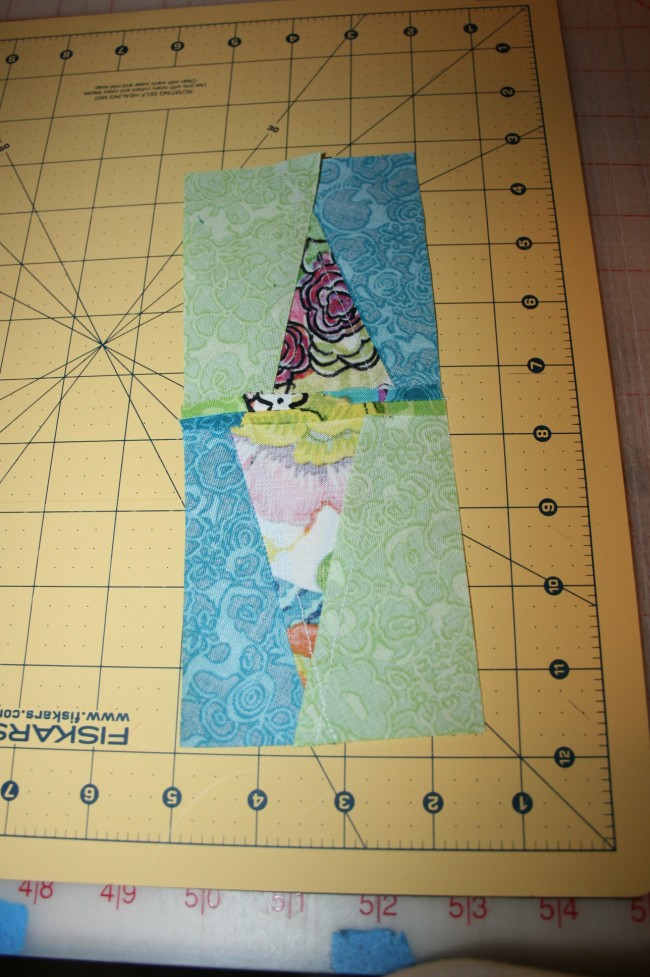 This time, press the seams open.  It reduces the bulk for your finished Pennant Point block and makes sewing multiple blocks together a breeze without lumps and bumps.

The finished Pennant Point block using my Sew N'Slash™ method.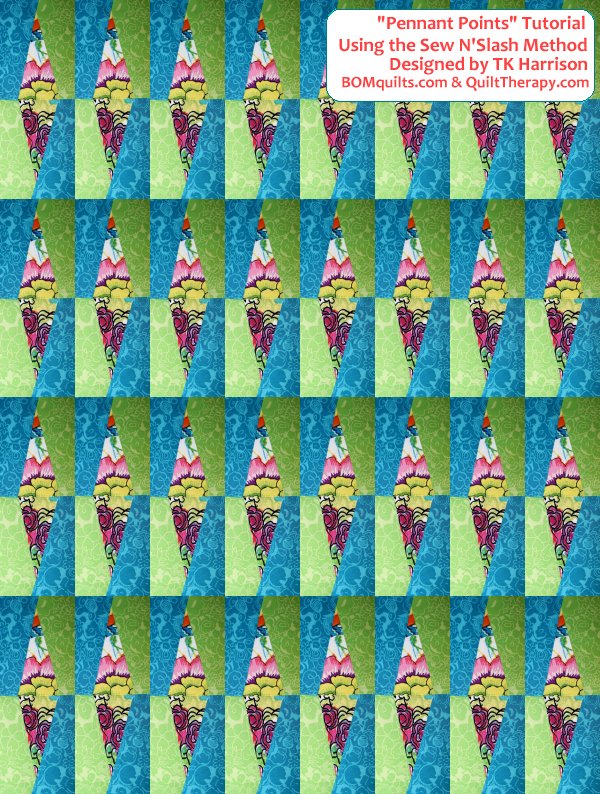 And this is an illustration of what a quilt top would look like if you wanted to create a quilt using Pennant Point blocks made with my Sew N'Slash™ method.  It definitely would be MUCH more fun with scrappier fabric choices.