Fabric Stroking Has Begun!
Ah yes, those of us who are true and blue quilters take our quilt fabrics quite serious.  First, we anticipate what's in the package that was delivered in the mail from one of our favorite online quilt shops.  Then we make ourselves comfy in our favorite chair, along with our beverage of choice and our scissors, pocket knife or some other sharp object to cut through the strapping tape.
And now the much anticipated moment is here – getting a first look at our fabric!
Then, the real work begins – making sure the fabric is absolutely perfect for our quilt project.
First is the sniff test.  We don't want our fabric to smell like a pet or anything else except fabric and sizing.  Once we are sure that the fabric is safe by our noses, we may scrunch it up and put our whole face into it – reveling in it's softness.
We lay the fabric out on a flat surface so we can see all of the colors together and separately.  We walk by it five or 20 times, just to see it every time we walk by, and in different lights such as sunlight and room lighting.
Once we are satisfied visually, the next day or week we begin stroking the fabric as we walk by.  We need to feel the fabric on our palms and between our fingers, especially to make sure it will feel wonderful in a quilt.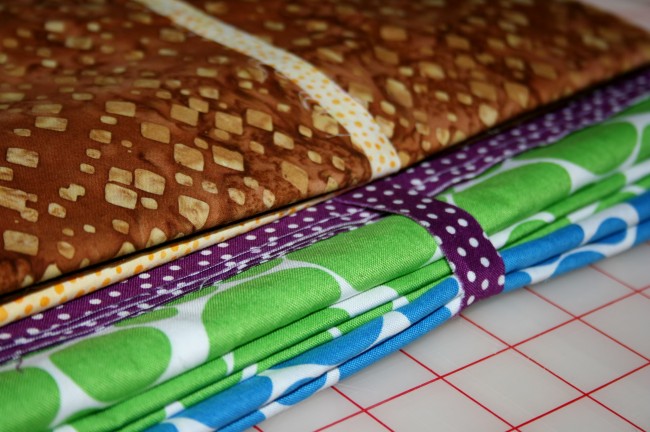 Of the five senses that most of us possess, the only one that isn't used is our sense of hearing.  But, if you are really a quilter – you can hear your fabric talking to you throughout this entire process!