Microwave Hot Bowl Potholder
I believe I first heard about these microwave potholders from my MIL. With this goofy MS comes memory loss – and I have it in spades!  Anyway, I needed ONE more gift for both my MIL and my SIL and BIL, so from somewhere in my memory these bowl potholders came to my mind.
After researching online for a free pattern, I chose this one from Quilt in a Day.
This was the first microwave potholder I made and although it looks great on the outside, I did not like the way the fabric bunched up in the center of the inside.  Unacceptable by my personal standards.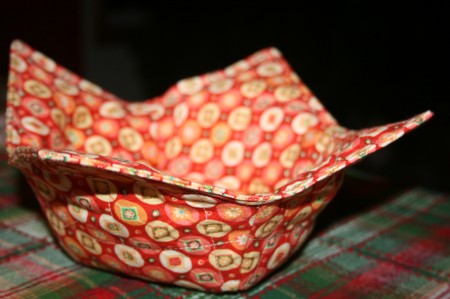 So, when I set out to make the second one, I made the outside square the 10″ as is shown in the pattern…and my inside square 9 3/4″.  When it was complete, the inside nestled perfectly without the fabric bunching up – LOVED the finished product!
You can see the second one I made through my Instagram account here.
And now that I am happy with the pattern, I will start making some microwave hot bowl potholders for my own family!