Yet Another Quilt with Many Blessings for the Graduate
My husband has been a lay minister for a church down in Alice, Texas for more than six months.  They REALLY like him, especially the little elderly ladies.  They are all cute and very lovely to myself and our kids, the few times we've gone down with hubby.  Alice is about four hours southeast of us, so it's quite a drive on a Saturday evening and hubby making the return trip home on Sunday evening – tires him out, that's for sure!  And the ladies spoil him with home-baked goodies.  Some he actually brings home to share and I suspect, some he eats all by himself while he's down at their parsonage and church.
And it's not just my husband who they are so happy with, but they've basically adopted our kids, too!  They know most of their names and ply them with treats (both edible and things like puzzles).  It's truly become a second home-church for our family – though we will retain our home church status until further down the road.
This past Sunday, they had a graduate celebration and they included our oldest daughter in their celebration.  Not only did she get a quilt from our home church, now she has another from the wonderful ladies at the church in Alice!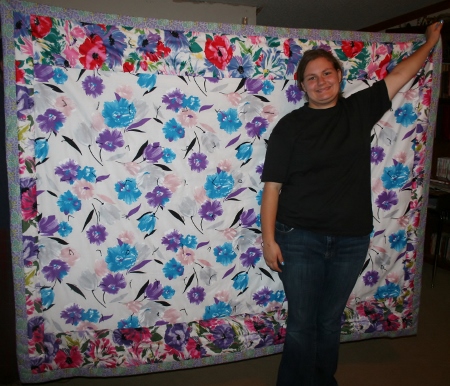 She has been sleeping with this one because it's all fluffy and she likes that.  But, you can bet she'll have both of her quilts adorning her bed when she heads to the dorms in August!
As for my first child graduating high school?  I am playing the ostrich and sticking my head in the sand…or, better yet, taking a queue from my children by turning on my iTunes, setting my music to an eardrum pounding level and plugging my ears up with my earbuds.  Not gonna take this one easily…though, I am betting as each of our other three children reach this adult-like stage in their lives, I will be ready to boot that last one out the door and change the locks!