Studio Move Planning In Progress – Help Wanted!
As I've mentioned before, my lovely foster mother gave me a quilt studio as a special gift.  Unfortunately, we did not get the studio completed while she was here – but, she made financial arrangements with a local big box store for the materials we will need to finish out the inside.  After she left us for her home (and colder climates), we were able to move her roll-away bed out of my current sewing room in our house and I got my sewing room back.
And that was when I noticed what a MESS my fabric and scraps were in!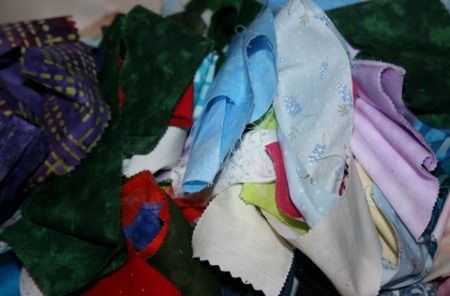 These are my Jelly Roll scraps – or scraps of fabric from binding other quilts at (mostly) 2 1/2″  widths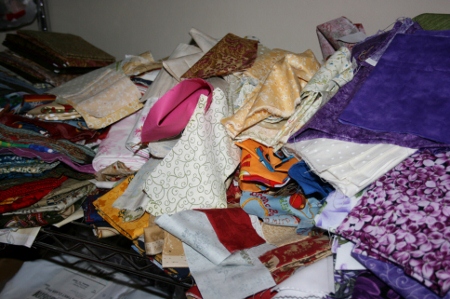 These are my fabric scraps – although there are a LOT of fat quarters mixed in.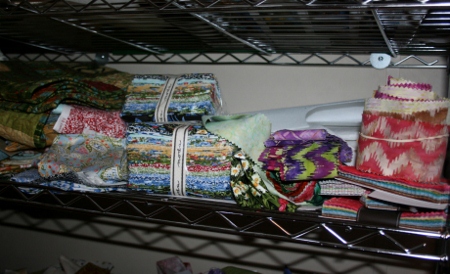 These are my very special fat quarter bundles specific to the Texas Hill Country fabrics, as well as batik Jelly Rolls and some charm square scraps thrown in.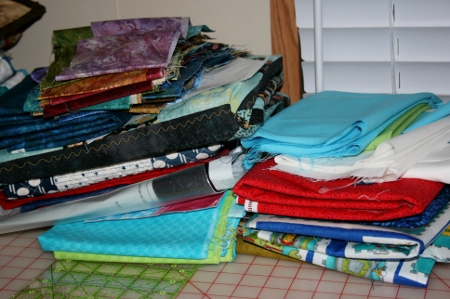 These are my current project fabrics, as well as a couple of quilts I need to send off.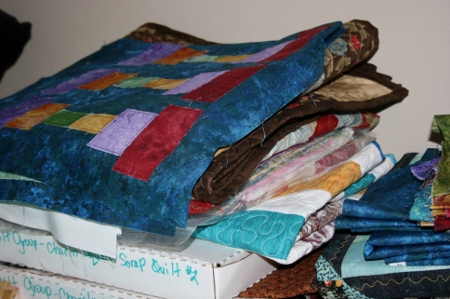 And finally, these are my finished quilt tops (either unquilted or quilted) as well as blocks for my "Pendleton Inspired" BOM from BOMquilts.com.
All I can do is shake my head at this MESS I've created.  And it certainly doesn't stop with these photos.  Under my sewing table and under my cutting table are boxes that have quilt fabric and completed blocks in them.
OY.
So, I ask for your help – what is the best way you have found to organize your stash and quilted projects?  Please comment, I truly need guidance so my new studio is organized when I move into it!