"Winterset Bricks" Block #1 Free Quilt Block Pattern
Each block is 12″ wide x 10″ in height finished, which means 12 1/2″ x 10 1/2″ unfinished.  All seams are 1/4″.  There are five rows and four columns in this quilt.  Finished quilt size is 69 1/2″ x 64″.  This quilt is very beginner-friendly!
To see the finished quilt, visit:  https://quilttherapy.com/?p=4816
"Winterset Bricks" Block #1: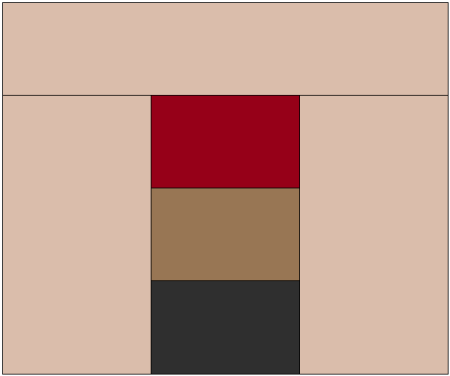 Cutting Requirements for Block #1 (these instructions are for ONE (1) block, you will need EIGHT (8) of these blocks to make the "Winterset Bricks" quilt):
Beige:  Cut ONE (1) 3″ x 12 1/2″ strip
Beige:  Cut TWO (2) 4 1/2″ x 5″ strips
Brick Colors:  Cut THREE (3) 3″ x 4 1/2″ strips
Sewing Instructions:
Sew the bricks together to create a strip.
Sew the left and right beige strips to the center brick strip.
Sew the long Beige strip to the top of the Brick & Beige strip.
Stay tuned tomorrow for "Winterset Bricks" Block #2!