"Midnight Stargazer" Pattern Part #5 has Been Revealed!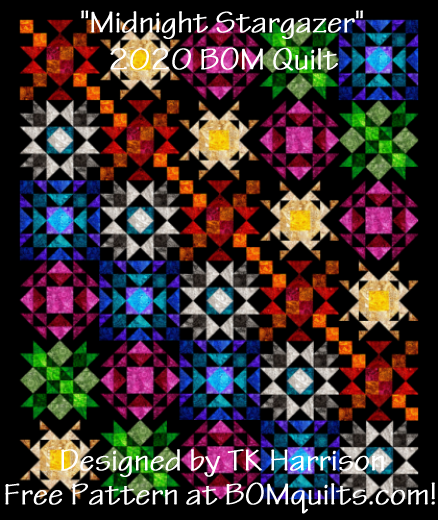 "Midnight Stargazer" 2020 Block of the Month Quilt. An Original Design by TK Harrison, Owner of BOMquilts.com!
Remember this quilt? This amazing, beautiful, wonderful, eye-popping, luscious, astonishing, astounding, awesome, breathtaking, fabulous & spectacular quilt 🙂 ?
Finished Size = 67″ x 79″
Block size = 12″ finished & 12 1/2″ unfinished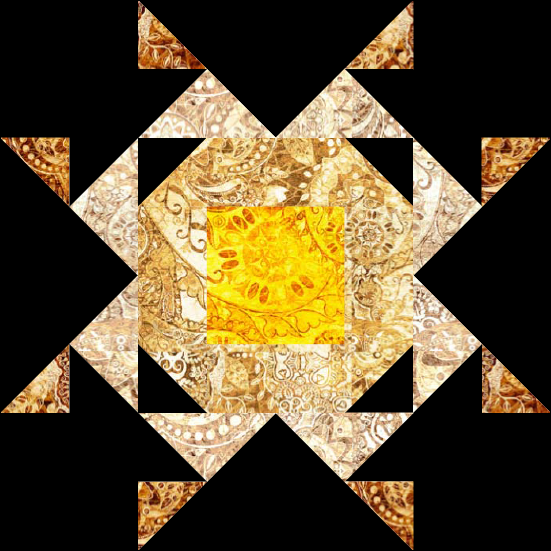 "Stockyard Star"
Block #2 – Part #2 of the Midnight Stargazer 2020 BOM Quilt
This block *is* the most difficult one of all six of them to sew together! Which is why the pattern's been revealed in two separate parts. The April pattern included the cutting instructions & the first part of sewing the "Stockyard Star" quilt block together.
This month's pattern will complete the "Stockyard Star" quilt block construction!
But once it's sewn together, you'll see what I'm talking about, when I said all of those adjectives above 🙂 ! The black background fabric brings out the beauty of the ombré fabrics, that go into making each & every quilt block.
Here's a look at the first two blocks that have been revealed this far:
Abbi May's Fabric Shop's only has ONE (1) "Midnight Stargazer" quilt kit left in her shop! Better hurry if you think you want to make this gorgeous, amazing & luscious quilt!

And if you feel like letting your fingers do the shopping (and who doesn't 🙂 when they're stuck at home?) all of her fabrics are always 10% below retail price!