"Harry Loves Alice" Block #1 Has Been Revealed!
I couldn't let you forget "Harry Loves Alice" now could I? Nope, not a chance of that happening anytime soon! 😉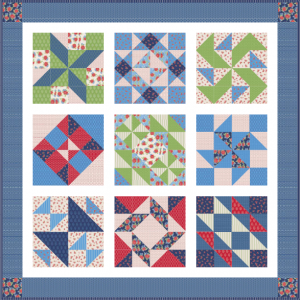 "Harry Loves Alice" 2019 Block of the Month Quilt. An Original Design by
TK Harrison, Owner of BOMquilts.com
This entire quilt is a basically a lesson in half-square triangles. For those more advanced quilters, it'll give you the opportunity to perfect your craft. For beginning quilters, sewing these quilt blocks together should help you see that they're not as difficult as they appear. In fact, I suggest that you start out by making the first THREE (3) quilt blocks out of your scrap stash, just to see how well you can hone your half-square triangle craft. Once you feel you know how to put half-square triangles together, then make the quilt blocks again using the fabrics from your AbbiMays.com quilt kit 😀 or the fabrics you picked out to make this quilt.

The fabric requirements for "Harry Loves Alice" quilt were posted on January 20th. The first quilt block was posted on February 20th.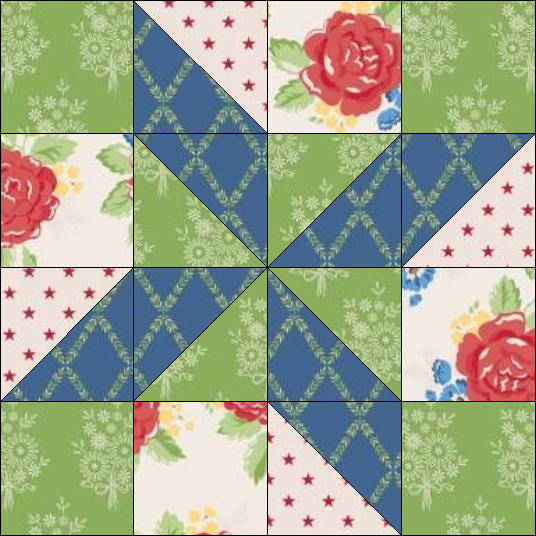 "Harry Loves Alice" Block #1 – Clay's Choice
How can you resist those luscious, bright & bold fabric colors? Admit it, you can't! 🙂 Dash on over to AbbiMays.com and put one of these quilt kits in your basket. Who knows? You may find one or two (or five or ten) more items in her online shop that you just can't live without!