"Windowsill Wonders" a Free 2018 BOM Quilt Pattern
Have you been following along with my "Windowsill Wonders" free 2018 BOM quilt on my sister-site BOMquilts.com?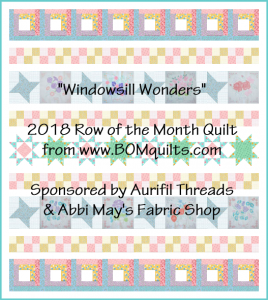 It's never too late to start a new quilt, now is it?!! This quilt features the fabric line "Windowsill Garden" designed by Darlene Zimmerman from Robert Kaufman Fabrics. It's a 1930's retro colorway that is oh so pastel. I love it, I really, really do! But any pastel fabrics will work! Or retro fabrics! Or make it scrappy, that works, too!
Every once in a while I design a quilt that I want to keep to get a quilty hug from for years to come, and this one fits the bill. I don't keep very many of the quilts that I make, preferring to give them to others so as to spread the love. I only have four quilts that I've made over the years, that I've kept and use. Because what good is a quilt if you don't use it? I don't want the eye candy, I don't need it either. Not to mention that I am a pastel person. It's the best coloring for me to wear and to wrap around me.
If nothing else, download my free pattern and save it for future use. It sews together fairly quickly and is a fun quilt top to make because it's not your average 'same blocks used over and over again' quilt pattern.