10+ Years and Counting with FaveQuilts.com
My BOMquilts.com website was one of the first sites to partner with FaveQuilts when they started out. They shared my free patterns and instructions on their website and with their newsletter subscribers. In turn, their audience was directed to my website to shop around and download my free patterns. It was a win-win for both of us!
Unfortunately, once I was diagnosed with MS at the end of 2010, I was no longer able to produce as many patterns as I had previously because I needed to focus my priorities on my family and getting to know the new me. There was no extra time for designing, testing and writing anything beyond my yearly block of the month quilts.
This past week, I was notified that one of the patterns that FaveQuilts previously highlighted was being featured in a new special bundle that they've named "Keepsake Quilting: 13 Wedding Quilt Patterns."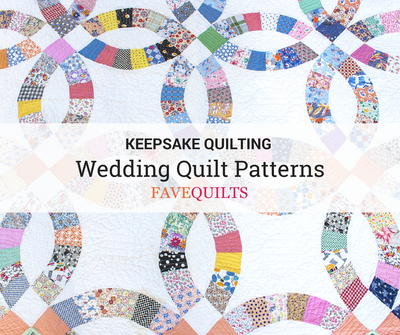 When I went to look at the project of mine that they included in this bundle, I had a little laugh. I designed it for my 15th wedding anniversary. This past month, my husband and I celebrated our 26th wedding anniversary – hence the title of this blog post. 🙂
I won't tell you which of my patterns is in their bundle, but head on over to FaveQuilts and see what you can see. Though I warn you, you can easily get lost on their website, finding dozens upon dozens of free quilt patterns and projects that you can't wait to make! So before you mosey on over to FaveQuilts, make sure your printer is full of toner and you have a ream of paper on standby.