A Year of Giving: Touching the Heart of a Quilter
Quilters are some of the most loving and giving people I know.  Hands-down, the best!  Any type of donation – from money to fabric to work product – will come to a quilter.
My first article in the American Quilter magazine is titled "Angel Babies."  It is a heartbreaking topic but the things that at least one of the organizations mentioned in the article (Teeny Tears) is doing in the memory of Angel Babies amazing.  AMAZING!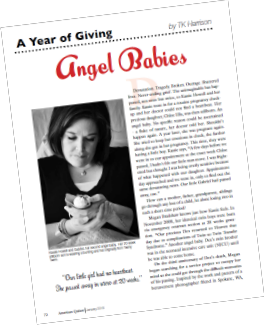 The January 2016 American Quilter magazine was delivered to subscribers last week.  While it was a kick to see my name in the magazine, the response from Teeny Tears was better than anything I could have hoped for!
We already have TWO new people, just in the last hour! This is exciting and hilarious! I LOVE IT! ~ Megan Bradshaw, Founder & President of Teeny Tears
This is the quilted love that literally brings a tear my eyes – quilters, selflessly giving of their time, talent and fabric to help those in need.  What a blessing – both Teeny Tears as well as quilters everywhere who sign up to help.  THANK YOU!