A Sweet Treat from Boca Beth
I've spoke before of some of the wonderful clients that I have.  In this virtual world that I work, it's not uncommon to find that some folks just have a hard time working with someone who may be 1000 miles away, and with whom they've never met. 
But, there are a few who have learned that being virtual is far less expensive than having an employee, I'm far more productive because I don't have a bunch of daily office interruptions and I'm far more focused because it's just me, my computer and the work they send me.
Boca Beth is one of those sweet people you just want to hug.  Daily.  She's kind to me, pays me on time (and sometimes ahead of time, if I'm in need of funds) and she is just a joy to work with.
I think I've worked with Beth, in one capacity or another, for about five or six years.  In that time, she's not only shared her wonderful products with me…I must tell you that my kids (especially the two younger ones) have grown up listening to her sing in Spanish & English – and it's truly given them a solid foundation of a second language that I could never have done alone.  I used her CDs while homeschooling, too, and every one of the kids would stop what they were doing to come and sing and dance with Boca and Beth.
And on Monday, I got a sweet surprise in my mailbox, from Ms. Beth and Boca: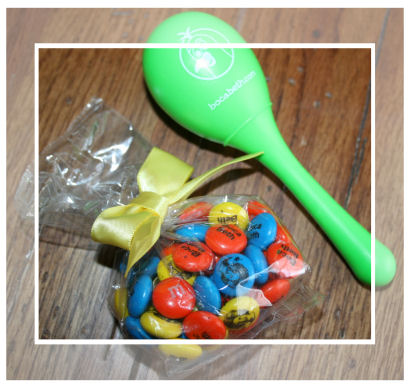 Can you see them?  It's a Boca Beth Mini-Maraca and some little M&M's that Beth had printed with her business name and with her image!  Here's a closer look: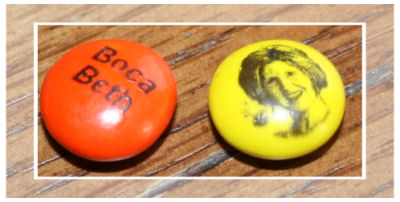 Don't that just beat all?!!!  If you want to read more from Boca Beth, visit her website at www.bocabeth.com or visit her blog at www.bocabeth.net.