Another Stupid Tammy Trick
I can't believe Letterman hasn't called me yet.  Really.  I'm just so much fun around the house!
Saturday night, as I enjoyed putting together quilt blocks, I did it. 
Yep, another Stupid Tammy Trick.
You may remember that my husband put together the perfect cutting table for me?
See it there in front of the window?  It's 36″ tall, just right for my height.  It's an inexpensive 4′ x 8′ folding table we purchased at the men's toy store (you *know* which orange store I mean), and he added a wonderful piece of 1/2″ plywood to it, and then we secured my cutting mat to that.
It's PERFECT!
Except when it's not.
Which would be when I bent down to pick up a scrap of fabric that fell on the floor Saturday night….whacking my head and scraping it as I bent all the way to the floor.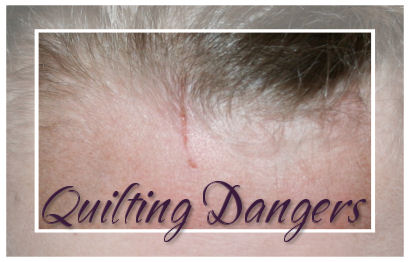 Oh yeah, another Stupid Tammy Trick.  Right on my upper forehead.  Ouch!
Letterman?  Circus?  I dunno – but, I obviously live by that motto "no pain no gain"!!!