Quilting for Charity Spotlight: Heartstrings Quilt Project
Strings, strings and more strings!  All of us who quilt regularly have strings.  I keep mine in a small basket on one of my shelves.  When the basket is full, it's time to start making blocks out of them.  But where do I send the blocks?  Or if I make a quilt top, who should I give it to?
Heartstrings.  Simple as that.  I was pleasantly surprised to see how many different organizations and individuals they donate quilts to.  Read about their quilt outreach here.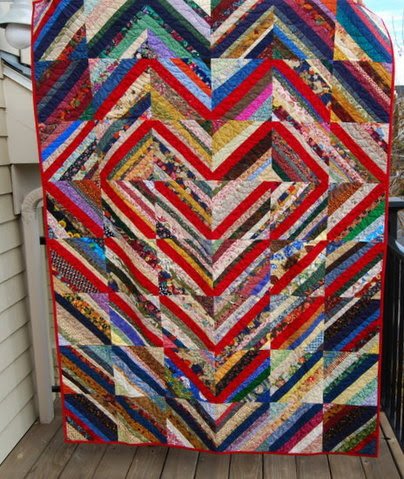 An absolutely beautiful "Heartstrings" quilt!
(source)
Now I know just what I'll do with the next string blocks and/or quilt top I make.  Go ahead, take a look at the Heartstrings website and enjoy their charitable journey!