And Rounding out the Birthday Weekend Quilts
I worked for attorneys for 4 years before I had kids, so I know that world (too well, sometimes).  Boring was the first thing that came to mind yesterday.  First, about 100 of us were seated in the courtroom, and the judge spent an hour listening to everyone's excuses for wanting to be excused.  Then, it was time for a 30 minute break while the county clerk conducted her lottery of the remaining potential jurors – 42 were to be chosen in this lottery.  After I went out to the auto and had a nice phone conversation with my aunt, I went back in – only to find that I would have rather have won a completely different lottery – I was chosen and became potential juror #8.  First row.  Not good.
For two hours, we listened and fielded questions from the opposing attorneys – voir dire, it's called in the legal world.  After that, we were excused for an hour and a half lunch break (and lo and behold, my favorite bbq joint was closed) and then back to our seats with our numbers in-hand.  This was it – the final cut.  The 12 jurors were chosen from this pool. 
During this time, I leisurely looked around the courtroom, envisioning architectural elements to be used in quilt designs.  Bad girl.
The only time I opened my mouth was when they asked if we knew someone or had someone in our extended family who had been convicted of a crime – of course, I honestly answered that my brother was currently in prison, but I didn't know for what.
That must have been my saving grace, because three folks were chosen from the first row and I was *not* one of them.  I would have done it, don't get me wrong, but as those of us who were excused were walking out of the building, I visited with a lady and we admonished the liklihood that either of us had time to give anyone three days of our week, as we didn't even have time to give ourselves three days!
And then I came home and napped and once the kids were in bed, I came to work and spent five very intense hours working on a client's projects.
I spent $3.50 on lunch, $20 on gas and lost 5 hours of billable time … and my lottery winnings?  $6  Which my husband will likely give right back to the county today when he hauls the trash to the dump.
But, to enlighten our (bored) spirits, let me show you the quilt that I finishing binding this past weekend!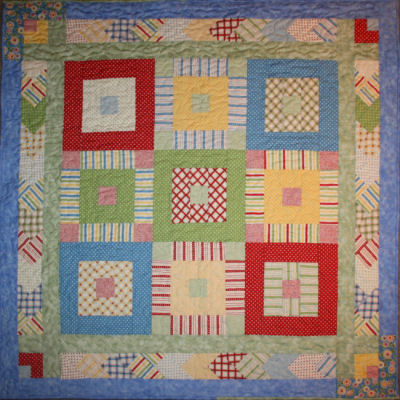 Mary Had a Little Quilt Made with Mary Englebreit's "Friends and Family" jelly roll fabric
Quilt Pattern to Come Soon!