Another Birthday Weekend Quilt Quilt
Don't have much time to yak today as I have been called to jury duty.  Oh joy.  Yes, it's my civic duty, yada yada yada … but, when you're a one-woman show who tries to support a family, it's rather depressing to think that the $6/day they pay you IF you are chosen will put a bean on our table.   Doesn't account for the gas to get to the county seat, or the time spent if you're not chosen (and therefore, not paid).  But, I will show up and pray that I do what is expected/required and then get sent home.
Here's the second quilt I completed this past weekend, another Shaggy Flannel, made from my Building Blocks Baby quilt pattern.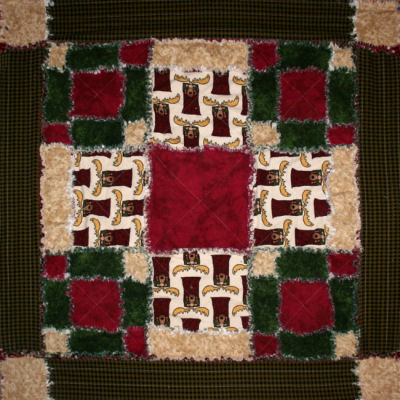 I might add that my dh has already claimed this quilt for himself – he loves the moose in sleeping bags, and wants it to cover his shoulders when he rests in his lazy boy.