This Little Light of Mine…I'm Gonna Let it Shine!
Earlier this year, when my (third) foster mother was wintering with us, we took a trip to that big box store (initials WM) to pick up some incidentals for my foster mother to have quilt projects to work on while she was staying with us.  On the end of one of the aisles was a huge display of Ott Light Sewing Caddy's: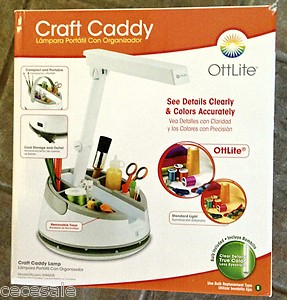 The price on these was $10 – and I *knew* the quality and brand was outstanding, so I suggested my foster mother get for when she sits in the evenings and likes to do hand-work.  I *knew* that price could not be beat anywhere…and after asking about it to my quilty friends on Facebook, the wholesale cost alone was at least $30, if not $40 in some places.  After my foster mother snagged one up, we went back a few days later and I picked up two more.  I had no big intentions on who they would go to, only that the cost could not be beat anywhere.  If I had had unlimited funds, I would have bought a shopping cart full of them!  One of my quilty friends even went a step further and called her local big box store and he called ours and was told they were Christmas oversights and were selling them at that amazingly low price just to get them sold.
Well, one of them went to my mother-in-law as her Easter basket earlier this year – and she has it all set up next to the chair that she likes to do hand-work in later in the evenings…and she absolutely loves it.  My foster mother loved hers so much, she took it home with her!
That left me with one left.  It sat in the box for the longest of times because I just had not come across someone to gift it to.
Then, one evening, I was needing to put the binding on a quilt and could NOT seem to get enough light on the subject, regardless of where I sat in the living room.  Then the light bulb (pun intended) went off in my head that I had the answer right in my sewing room – all I had to do was unpack it and fill it up with what I needed to whip-stitch the binding on a quilt!
Hence, I gifted myself with the final Ott Light Sewing Caddy!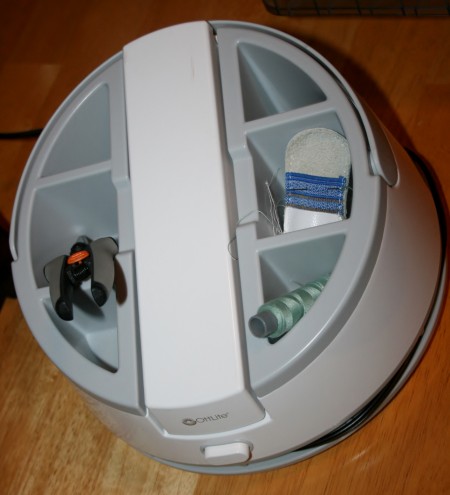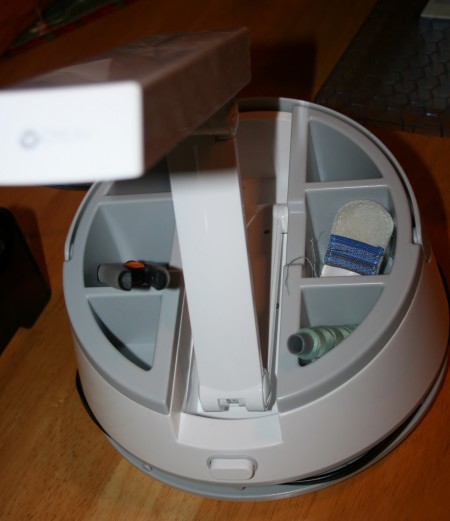 And when my foster mother comes back, she can use mine and not have to travel with hers…but, leave it safe and full of all of her fun things until she returns to her summer home!