With six promised quilts or quilt projects accepted to an online quilt magazine, I had to do some stashbusting this weekend.  And I truly saw what type of quilt fabric color I had become over the years.  🙂
I needed some red and blue fabrics for one scrappy project – but do you think I could find ANY of those in my stash?  Oh noooooooooo, it couldn't be THAT easy!
But the stashbusting was good for at least one good thing:  It showed me that I have a lot of fabrics in colors I would normally not quilt with, and very little of the fabrics that I use all the time!  Although my second daughter and I organized all of my stash in little baskets, what we didn't do was to organize them by color (because we ran out of baskets!).  I purchased six new baskets and so perhaps I can find her in another bored moment and have her help me organize by color and not just by the size of the fabrics in my baskets.
As this epiphany hit me, I dug a little deeper for scrappy fabrics in my stash for a quilted project and finally settled on using these fabrics: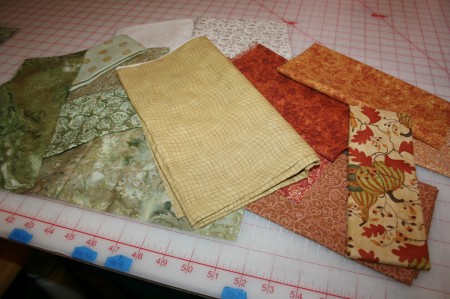 Now that I have them, I can get busy piecing my project.  I also need to get my stash fabrics color-coordinated so that when I need red and blue, I can make a note of it and head to my fabric supplier to fill in the blanks of my stash!
Do you have your stash color-coordinated?  If so, what method of storing your stash suits your quilting style and purpose?