Fabric Colors and Choices
I design a LOT of quilts, mostly for my websites – www.BOMquilts.com, www.QuiltDash.com, www.QuiltBlockDash.com and www.MysteryQuiltDash.com.  One thing I have been told over-and-over is that I have an amazing knack for putting together color combinations that 'work' and not only make a quilt design POP but also shows off the fabric colorways in the best possible ways.  While the professionals probably use a color wheel or something similar, I have come to rely on my lazy way of quilting – I pull out the fabric and mix and match until I get the desired effect for each quilt block and/or overall quilt design! 
Nothing scientific about my approach except taking my fabric into different lights and using my chicken-eye on them.  Plus, I truly believe my cosmetology education in coloring hair gives me the knowledge and confidence to choose colors for quilts.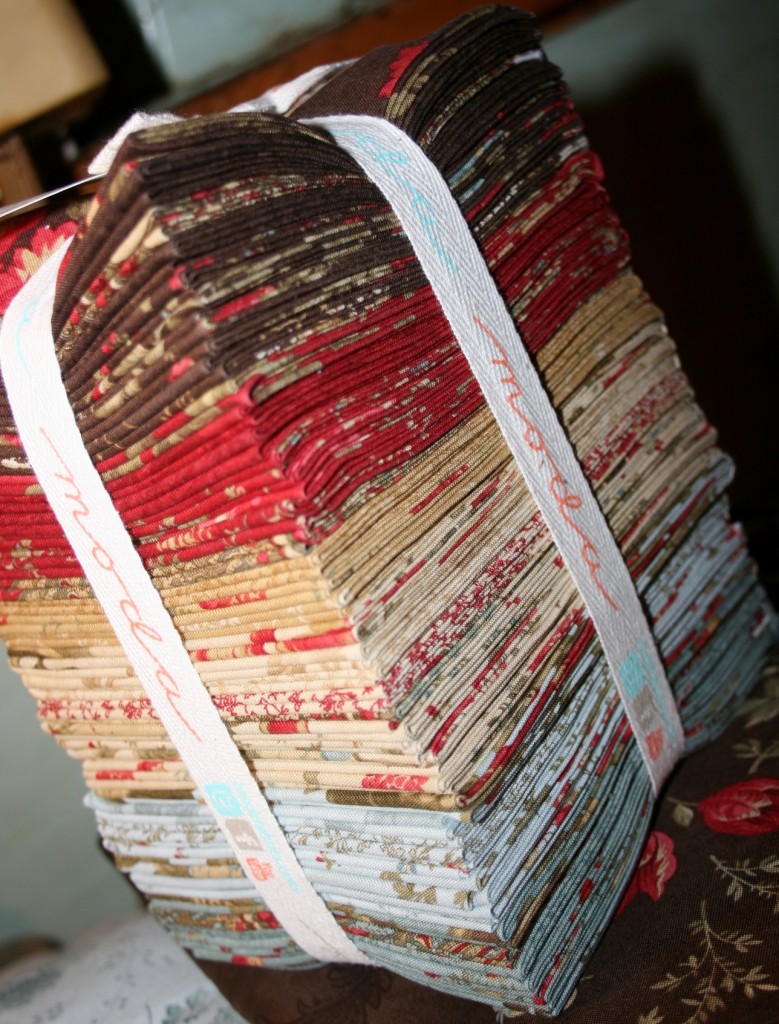 I do have some hard rules as to what fabric lines I want to work with:
The entire fabric colorway *must* have complimentary fabrics to their focus fabrics.  I absolutely refuse to work with fabric lines that do not offer complimentary fabrics.
For beginning quilters, it is paramount that the fabric line NOT have plaids or straight lines that would need to be fussy-cut.
Since I prefer to piece traditional quilt blocks or utilize raw-edge applique, the fabrics need to have enough color variations so that the applique is clearly visible on the background fabric(s).
When I write a pattern with a full or partial fabric line, I make sure there are dark, medium and light colors in the fabrics….and I let the quilter determine which fabric to use based on their own preferences (i.e I do not put a specific fabric in my instructions but put the basic shade in and let the quilter learn to expand their artistic horizons and choose their own specific fabric to use in their quilt).
If I am making a personal quilt (perhaps for a relative or friend), I have no problem mixing and matching fabric lines and manufacturers to create a design specifically for the recipient.
I try to always have white, ecru, red and black fabrics on-hand.  If some of the fabrics I am given to work with don't meet my above stated standards, I will add some of these color-staples to the design.
Never, ever, ever rely on fluorescent light to match fabric colors – it will give a green tint to everything.  Take the fabric outside and look at it in natural light – will give you a completely different look at the chosen fabrics.
Any leftover fabric either goes to someone who needs it or is used for a scrappy backing.  No waste.
I will only quilt with high-quality fabric.  No cheap fabric for me – or my sewing machine!
I lay out all of my quilt fabric for whatever fabric line I am working with and let it 'talk' to me over the course of a few days.  Some fabrics, I immediately see a pattern in my head based solely on the name of the fabric….other fabric, I need to look at, fondle, move around until a design comes to me that "fits" with that fabric and/or the recipient.
If I am buying fabric, I always carry a good-sized swatch of what I am working on with me to the quilt shop – that way, I can find the fabric that I need much quicker – and grab the matching thread, too.
Every computer monitor has different settings, browsers, etc.  Hence, some of the colors of fabrics found online are actually a bit different when sitting in front of you.  I have been known to ask for the smallest cut of a fabric from an online shop just to make sure the color is what I need, before buying it in larger quantities.
Once I have the design for each quilt and the fabric, I will choose my fabrics one block at a time.  This way, I am not locked into a specific fabric for any one block but can use my imagination and skills to make sure the blocks are compatible and worthy of eye candy.
If I am testing fabrics for a block, I will either go with it or not.  If not, I save the blocks – who knows what use I can find for it later?!
The moral of this story is that you don't have to be a professional quilter or designer to choose your own quilt fabrics.  Use your eyes, good light and practice blocks to get the desired result.  If you do not care for the first sample, set it aside and try again.  That first one could make a good potholder or pillow or even a doggie blanket!