As many of you know, my (third) foster mother (FM) has come to winter with us for a couple of months to escape some of the winter in Iowa.  Before Christmas, I told her we were having a homemade Christmas just for her when she arrived – beats sending huge packages through the mail plus, we all wanted to see her reaction to our homemade gifts.
In turn, she did some "closet shopping" – she went through her closet to find things that each of us would like and brought them.  What a great way to give gifts that have special meanings to both the giver and the receiver!
I was so busy watching and listening to the gifts our family received that I didn't get photos of each one of the kids.  Our youngest daughter received a book about a girl that was published in 1909.  I'm sure my FM didn't realize the significance of that year but both my maternal grandfather and my husband's paternal grandmother were born in 'naught nine'.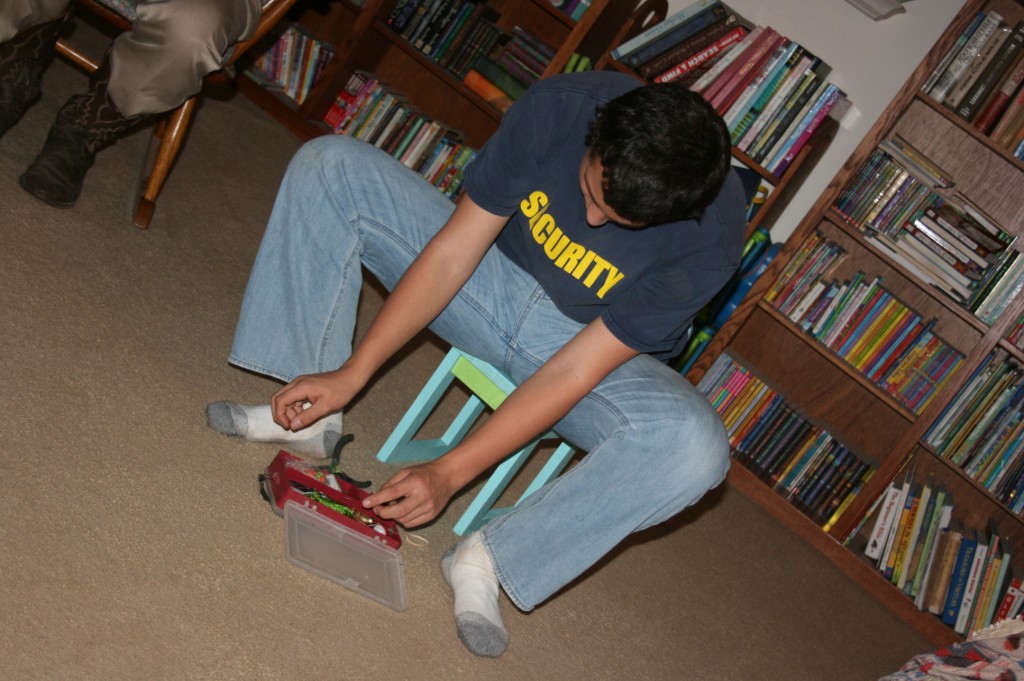 The son-man received my FM's Boundary Waters tackle box.  The Boundary Waters are in northern Minnesota.  When I lived with these foster parents, we took three trips to canoe in the waters (over the course of two years) and then went again with our church youth group.  This is a very special gift, beyond the fact that my son loves to fish – it's a gift that I know means a lot to my FM.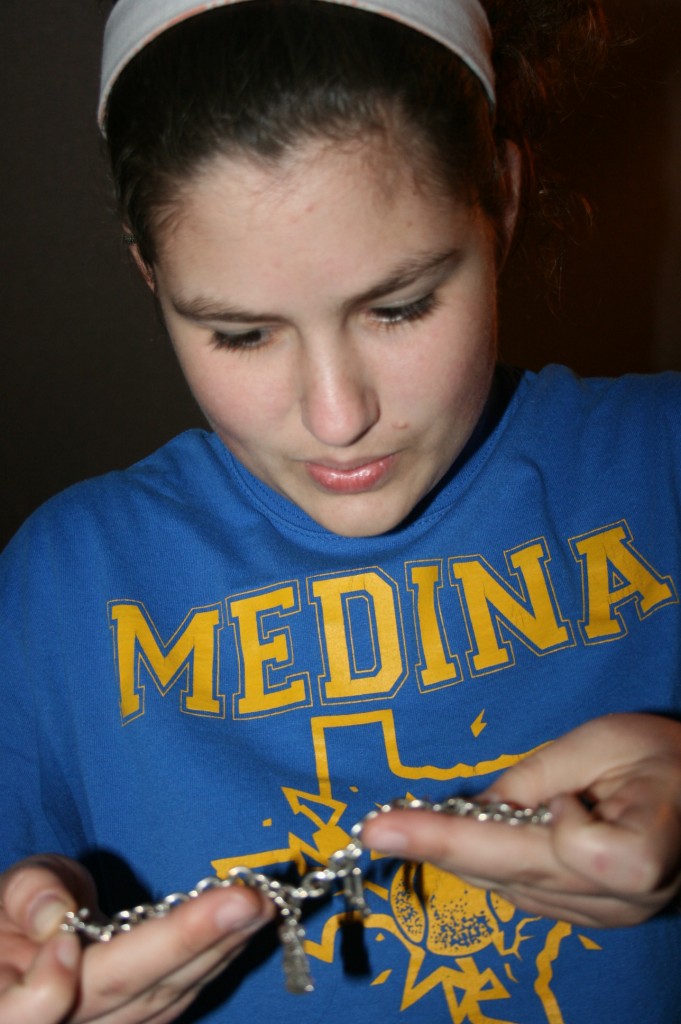 Middle daughter received a music-themed charm bracelet since she LOVES music!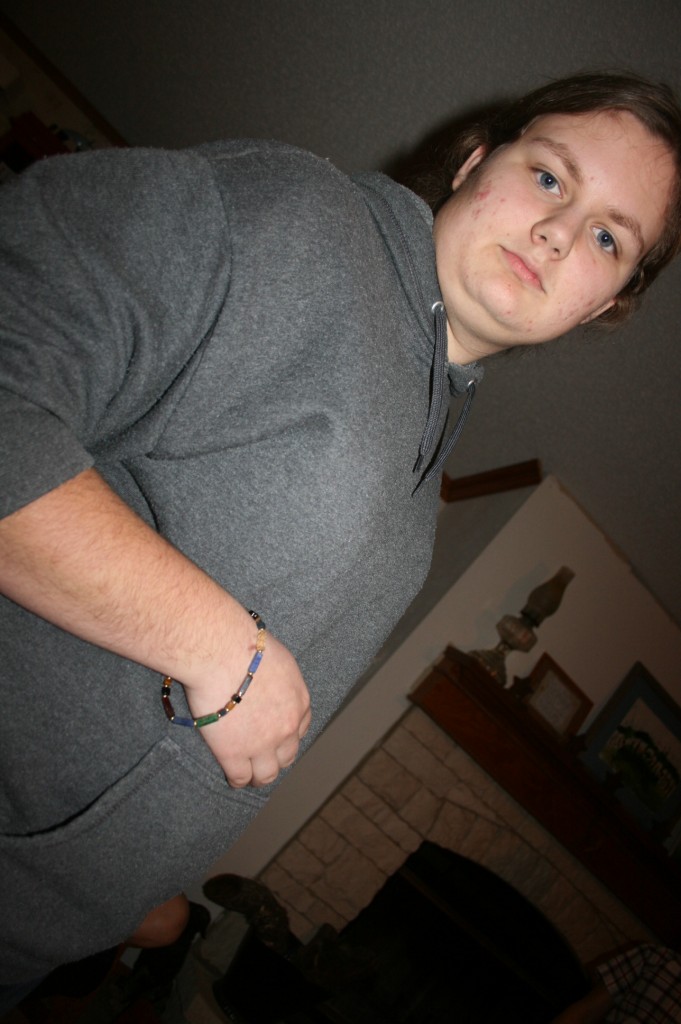 Eldest daughter received a stone bracelet since she has to pick up a rock everywhere she goes.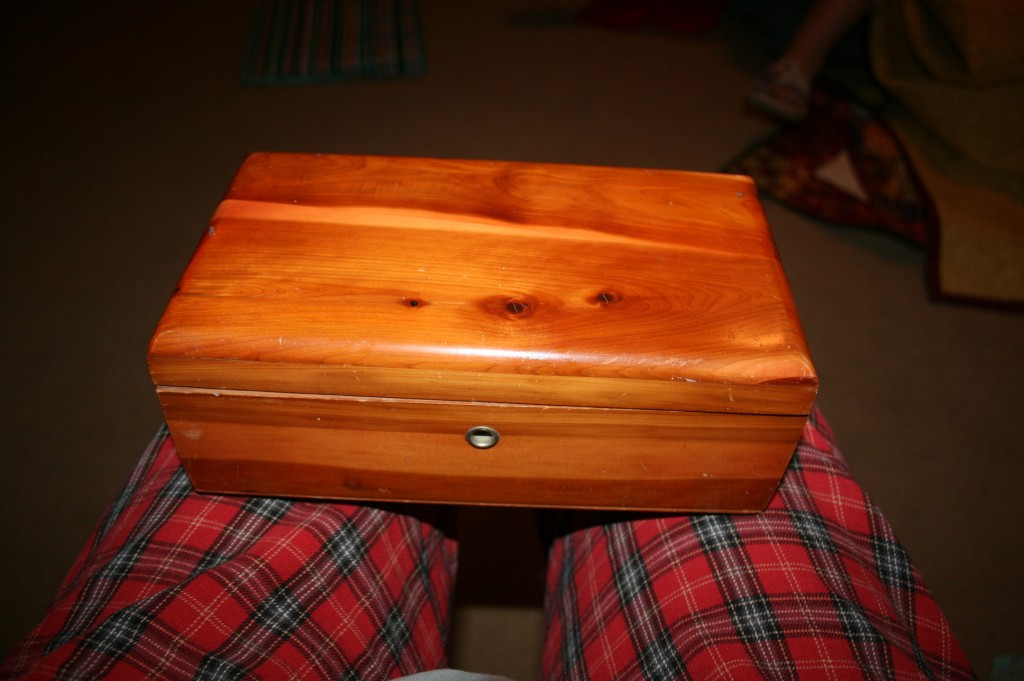 I received this beautiful cedar box.  As my FM told the story, back 'in the day', if you purchased a hope chest from a certain shop, you received a mini-hope chest as a special gift.  I never had a hope chest so now I finally do!
My husband received two more lectionaries for his lay minister work.  My FM had bought him his first one last year and now he has all three versions, which are rotated during the church years – perfect gift for him!
And then it was our turn to give back to one who has given us so much.  We decided to go (mostly) handmade because my FM has always been a crafts & sewing person.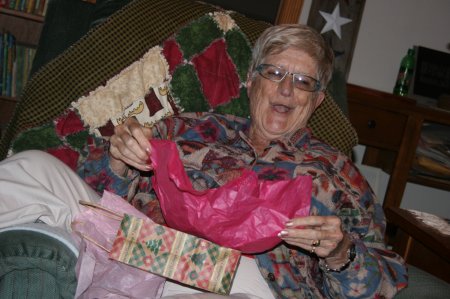 Our youngest gave Grandma a set of loom potholders.  She and Grandma made cookies when we went to Iowa last summer.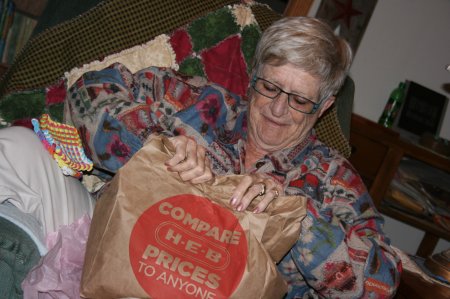 Son-man gave Grandma a bag of pecans she needs to crack open – just what she asked for!  (this was the only non-homemade gift but she specifically wanted this one).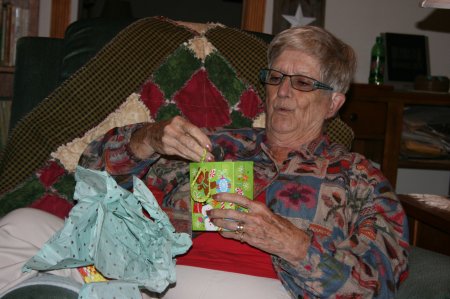 Middle daughter gave Grandma a really cool friendship bracelet she wove from embroidery floss in Grandma's favorite color of blue!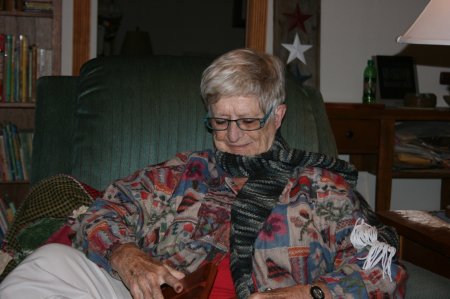 Our oldest daughter gave Grandma a scarf she crocheted all by herself.  Grandma taught her to crochet a couple of years ago so she wanted to show Grandma that she remembered how to do it.  The scarf is skinny because you don't need much more than that in Texas.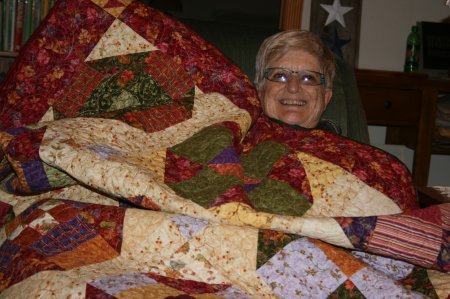 The final gift was from me – I gave her my beautiful 2012 block of the month quilt "Bittersweet Churning" (free pattern at BOMquilts.com) – she had happy tears and a great big smile when she saw the quilt.  She also put it right on her bed and has looked at the workmanship every day since she got it!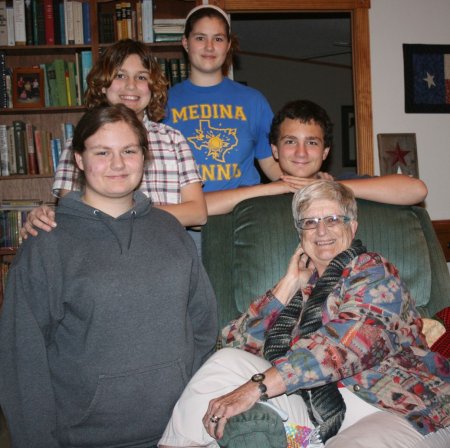 Here's my FM with all four of our children.  What a great late Christmas for one and all!