Big Block Log Cabin Quilt
My lovely local friend GA emailed me with a plea for help.  She is staying with her daughter and grandkids while her daughter endures chemotherapy, to help take care of everyone.  That's pure selflessness – and truly shows a mother's love.  Her daughter wants her to make her a quilt while she's staying with her and chose five fabrics with which to do them: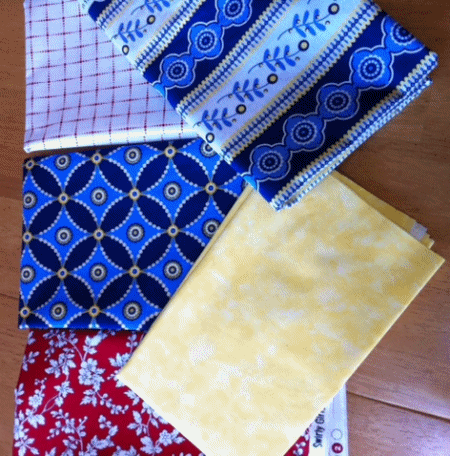 My quilting Damsel in Distress needed some quilt therapy assistance – and that would be ME.  🙂
She thought she would make a log cabin quilt out of these fabrics, but first needed fabric requirements.  They had only bought one yard of each of these fabrics and she knew she needed more since her daughter requested a queen-size quilt.  Enter ME!
Of course, there are few things more satisfying to me than helping a quilting Damsel in Distress – so, not only did I send her the fabric requirements, but I also gave her the cuts for the log cabin blocks.  Then, decided it may help her if I spent the week showing her how to put her blocks together.  It's what I do – rescue quilting Damsels in Distress!
I sent her the information for a square quilt, but have since thought about it added another row to the quilt so it was queen-sized without borders and just the binding.  Here is an image of a basic big block log cabin quilt: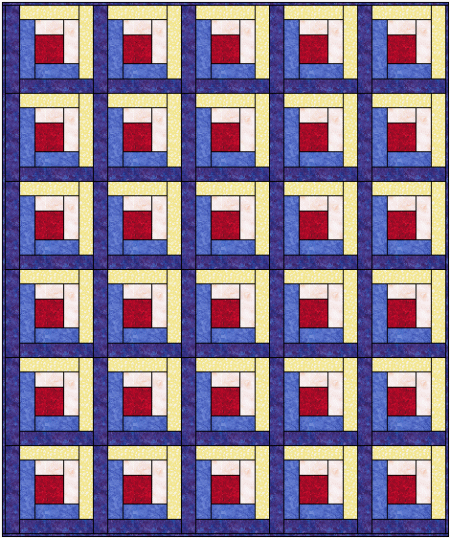 This quilt has 15″ finished and 15 1/2″ unfinished blocks – 30 total blocks.  The total size of the quilt is 76″ x 91″.  All seams are 1/4″.  Always press away from the center block.
Another little tidbit I shared with my friend is that the traditional center block of a log cabin quilt was red – it stood as a welcome to anyone entering a pioneer home….red for the fire in the hearth and the love in the home.
The fabric requirements for the quilt shown above are:
Red:  1 yard
White:   1 yard
Yellow: 2 yards
Blue #1: 1 1/2 yards
Blue #2:  2 1/2 yards (includes binding)
 Stay Tuned Tomorrow for Cutting Instructions!