Stupid Tammy Tricks: Dog 1, TK 0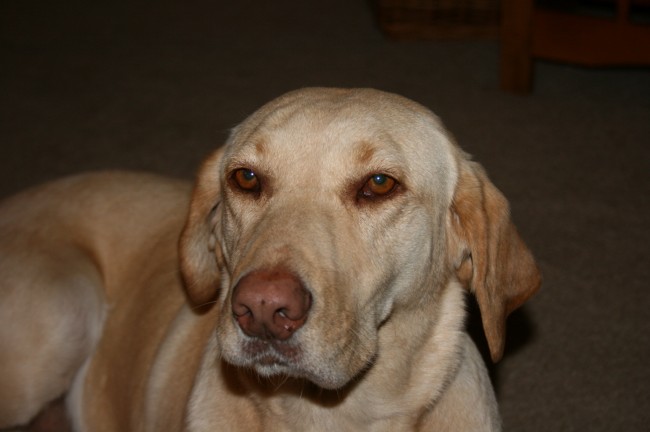 Meet Phydeaux (pronounced Fido).  She's a 13-year-old yellow lab who was a birthday gift to our son when he was just three-years-old.  Son has three sisters, he needed a dog as a faithful companion – someone to pal around with, run in the fields with, sleep with and be loved unconditionally by.
Phydeaux has lived a pretty good life.  At this point, she's beyond the 'normal' age range for labs.  She's had a stroke in the past two years, she cannot run around without taking a few hours to finally catch her breath and her tummy is not very stable – but she's still a pretty good dog.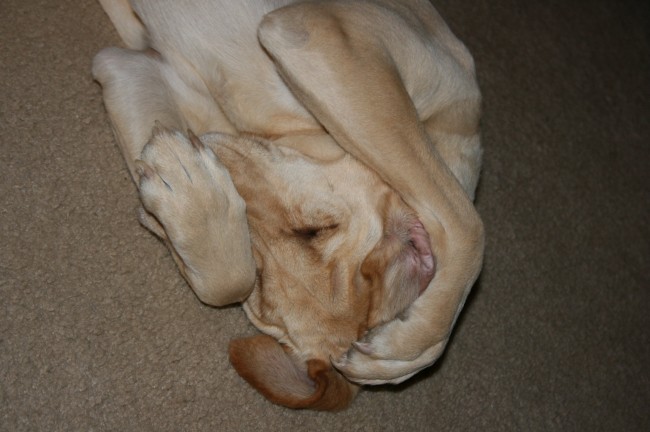 This past weekend, my husband and kids went camping, leaving me home alone with minimal supervision (my MIL was just up the hill from our house, if I needed anything).  Which left me in charge of all of the family pets – two dogs and a turtle.  I'm a champ when it comes to taking care of the turtle!  Feed him twice a day, turn on his light in the morning and turn it off in the evening.
Our other dog is our oldest daughter's dog.  She is a scrappy terrier mix who was a rescue.  She's six-years-old and still has a lot of vim and vigor in her.  She's not too difficult to supervise, especially when there's treats and lots of belly rubs throughout the day.
Now, once a day, my husband lets the dogs out for something he calls a fun run.  He doesn't supervise them very much but lets them have some time outside to burn off some energy, chase rabbits or armadillos and just give them a chance to sniff everything and anything.  The only reason he may have to call one of them back to the house is if they are headed to our compost heap.
When I am in charge of the dogs, they rarely listen to me.  They go out and come back in pretty quickly in the mornings and then in the evenings (when they know there are food or treats involved).  It's those hours between breakfast and bedtime, when I'm home alone, where they challenge my authority EVERY. SINGLE. TIME.
Last weekend?  Phydeaux was the naughty doggie.  ARGH
I let the dogs out before lunch on Saturday. Now, having MS, I'm not too steady on my feet when I'm not in the house where there are things for me to hold onto – and I cannot use a cane because the right side of my body will always be out of whack from of a huge dead spot in my brain. I could see Phydeaux over near my husband's garden but every time I called her, she moved further and further away from me. I finally got off the deck and go to get her. And the closer I get, the further away she went.
Her goal? The compost heap, of course. And with her rumbly tummy, I was *not* prepared to clean up dog gak all weekend. Her stroke has affected her hearing in one ear but the other hears just fine…when she wants to.
I start walking perpendicular to her and almost catch up with her…when I realize that at some point, my slipper fell off of my foot. I don't have much feeling in my feet so is easy to throw a shoe without my knowing it. I look back and see my slipper – except it's turned the wrong direction for me to slip my foot into it easily and it's also surrounded by thistles. I finally deduce that I can take one or two steps toward it and then pick it up and put it back on my foot. Well, then I encounter MS issue #gazillion – if my head gets lower than my hind end, I get extremely dizzy (again, that dead spot in my brain is the cause). And just like that, I got dizzy and literally fell on top of my slipper as well as the thistles.
And Phydeaux is still taking a leisurely stroll toward the compost heap. ARGH