Friday Funday: T-Shirt Quilt Beginnings
I have enjoyed making t-shirt quilts for a few years…and they just keep getting better and better as I practice my mad quilting skills on them.  For those of you who have never made a t-shirt quilt but want to…my best advice is to do some research with your favorite search engine to see what you can find.  Tutorials are plentiful, just make sure you find one that makes sense to you and has a lot of positive comments with it.
These past two weeks, I have been working on a his and hers t-shirt quilt.  The husband belonged to a fraternity and the wife belonged to a sorority when they met in college.  Now that they are married, the bride's mom asked me to make a t-shirt quilt that would put both the bride and groom's Greek-dom together in one quilt.
The t-shirts they sent me for the groom were simple enough – they wanted all of his t-shirts used, fronts and backs.
The bride sent me a HUGE box of t-shirts (and even some sweatshirts) and we had to cull out a number of them so we had even numbers for his side and her side.  Below is how we conducted the culling process.  First, we laid out ALL of the wife's t-shirts and photographed them: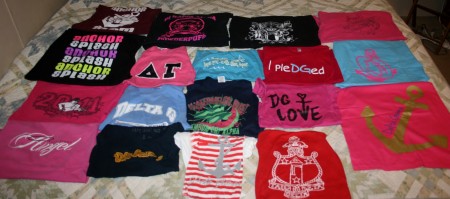 Next, the wife sent me a list of the ones she wanted included…so that her numbers matched his numbers.  After we pulled her choices out of the box, I then sent her another email with the following photograph, just to make sure we had the correct t-shirts that she wanted:

She emailed me to let me know we'd mixed one up, but otherwise, I was good to go and could start fussy cutting the fronts of the shirts!
We are still quite a ways out from beginning to end…but, the process is just as fun for me now as it was with the first t-shirt quilt I made!