Quilted December Updates – Hand Warmers
Ever since I started my "Quilt Therapy Countdown for Christmas", my December quilt projects have to wait until after Christmas to talk about and showcase on my Quilt Therapy blog.  Sometimes, it's REALLY, REALLY hard not to just slip in a blog post with something I have completed or something fun to read about.
But now, the wait is over!
Let me begin my December tales with the gifts I made for my girls' teachers and for my MIL's family Christmas.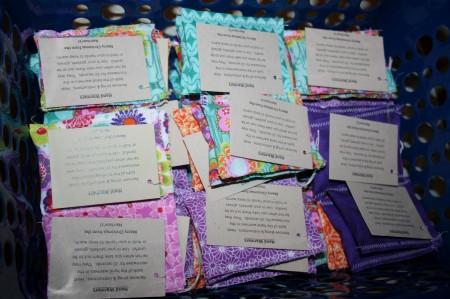 These are hand warmers.  I was sitting with my husband one evening, just visiting about this and that…when I asked him if it was possible to make hand warmers with fabric and filled with rice.  He found no reason why it couldn't be done so a plot was hatched to at least make those for our daughters' teachers as Christmas gifts…and then it morphed into making about 35 pair for the family get together, too.
When, I mentioned my idea to my quilter and she did a search engine search and found a blog where there was a tutorial to make them!  I was flabbergasted that what I felt was an original idea 🙁
But, I followed my original idea and put them together with jelly roll fabric.  For ONE (1) hand warmer, I cut a 7″ strip from a jelly roll and then folded the fabric in half and sewed (zig-zag stitch) the two sides together.  Then, I filled it with three teaspoons of rice, closing the top at the sewing machine.  These all go together VERY quickly, hence the reason I was able to make them in just over an hour from start-to-finish.
Finally, I typed up some directions (30 seconds in the microwave) and strung them through with some thin crochet thread and tied a knot to secure them to the pairs of hand warmers.
Fun and very well received, too!