This quilt is mentioned on my About Me page, and I finally took the opportunity to photograph it.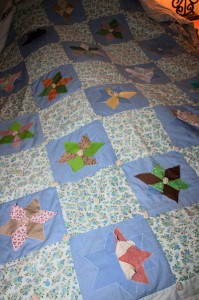 I had a girlfriend in cosmetology school whose grandma made quilts.  This was the beginning of my quilt therapy life.  The quilt was not made that well, as you can tell because my stars are disappearing in the washing machine.  But, I love this quilt the most of all of the quilts I own. 
Why?
Because it was the beginning of a passion and realization of a gift that God gave me.  I hope I am able to continue to share that quilted love for a long time to come.