I performed the children's sermon last week at church.  It was fun, but this time I really wanted something dynamite.  The message revolved around the chapter of John (21: 1-19) where Jesus showed himself, after being raised from the dead, and helped his disciples fish.
So, my husband created a mock boat for me to use: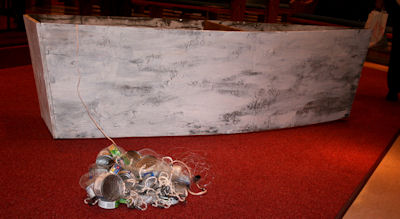 Last week, we asked the congregation to bring cans of tuna for the children's message, and when we were finished with our quest for 153 cans of (tuna) fish, we would donate it to our local outreach program to distribute to the needy.
We put the children in the boat and asked them to turn away from the congregation, to close their eyes and pray with me.  We prayed that Jesus would show his love for those who were hungry, and provide fish for our expedition. 
As the kids were turned away from the net, the congregation come up and filled our net with cans of tuna fish.
The looks on the kids' faces after the sermon was magical.  Priceless.  SO special!
And as an ego booster, one of our retired pastors came up to me after the service and thanked me, telling me that was a beautiful children's sermon and a great message for our church and kids.