Countdown to Christmas – December 1, 2009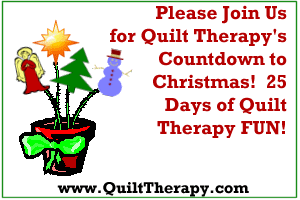 Today, we begin the Quilt Therapy Countdown to Christmas Not-a-Flower Pot Arrangement!
If you missed the supply list, please click here.
First, take your flower pot and cover it with fabric.  You can use glue or tape or whatever suits your fancy to make it fit around your flower pot: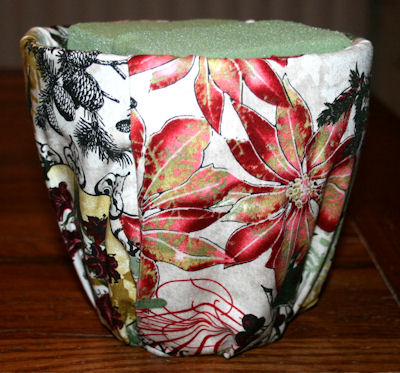 Next, put floral foam (snug) inside your pot: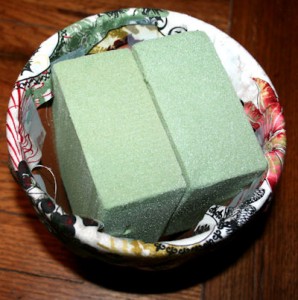 Now, fill the spaces between the pot and the floral foam with garland, and drape it around and around until it completely covers the top of the flower pot: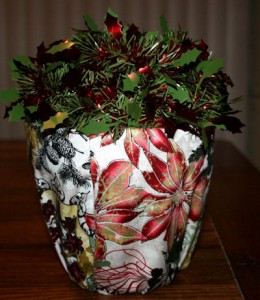 Wrap your craft sticks in the floral tape, leaving about an inch uncovered so you can hot glue it to the back of your completed not-a-flower sewn templates.
Download the pattern for Day 1 Not-a-Flower Christmas Template HERE
Once you have cut out your fabric and fusible Peltex or Temtex and pressed them together, use a zig-zag or your favorite stitch around the edges.  You can embellish the finished candy cane, if you so desire.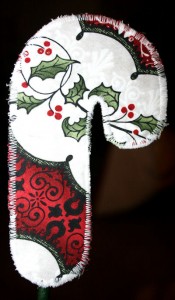 Finally, attach the "stem" to your "not-a-flower" on the back and stick it into the floral foam!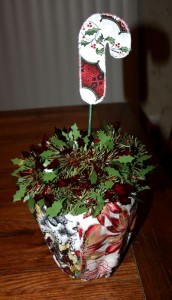 We'll make one "not-a-flower" template each day for the remaining 24 days until Christmas!  Come back for more and I hope you enjoy this Quilt Therapy Countdown to Christmas project!