Introducing my 2022 "Majestic Beauty" BOM Quilt!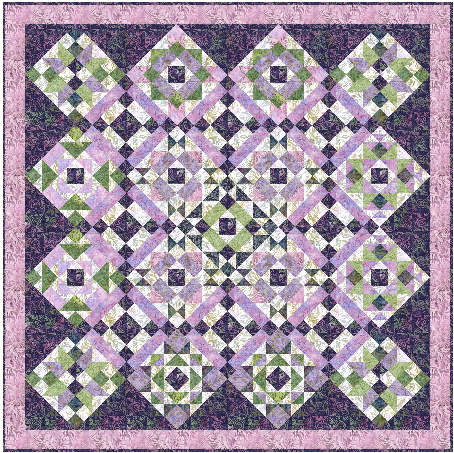 "Majestic Beauty"

My New 2022 Block of the Month (BOM) Quilt
Featured on my sister-site: BOMquilts.com!
Finished size = 81″ square
Finished block sizes = 18″ square & unfinished block sizes = 18 1/2″ square.
Here's a look at the blocks that make up my 2022 "Majestic Beauty" BOM quilt:
Single Irish Chain Quilt Block
This is an On-Point BOM quilt! If you are not familiar with them then:
check out this article!
Once again, my 2022 BOM quilt is sponsored by:

I just love Linda, her little doggies & her shop's team! If you haven't shopped with her I'm sure you will fall in love with her, too! She only has nine "Majestic Beauty" kits, made out of the "Jade Garden Batik" quilt fabrics, available this year. If you want one you'd better order it sooner than later! Once she has her kits completed you'll be able to order them from a link on the "Majestic Beauty" page on the BOMquilts.com website!