Hanky Panky Crazy Quilting
At our little quilt group meeting last night, our lesson was taught by a lovely lady who has been around for a while 🙂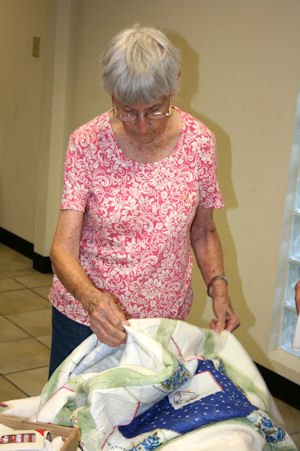 She makes handkerchief crazy quilts, and a number of our members wanted her to teach us how she did it.  She creates them all by hand, with the only thing sewn by machine is putting the top blocks together with sashing.  Mind you, the handkerchiefs usually have something embellished on them, and most have lovely edging…but, she adheres them to an underneath fabric by hand, with crazy quilting embroidery to fill in the blank spaces and to sew them to the background fabrics.  She made this one with 20″ hanky blocks and then 2″ (finished) sashing.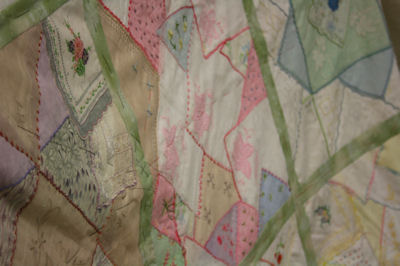 The resulting quilt is very beautiful, almost delicate to look at.  And those handkerchiefs sure bring back memories for me of my Gramma, when she'd come to our house and I'd want to be with her and help her do things like iron her handkerchiefs!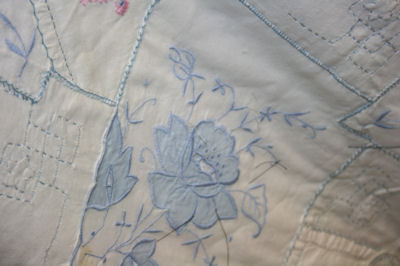 Of course, as she was talking about her techniques and telling us all about how she put them together, my mind was abuzz – I don't have the time to make something like this by hand, but it sure would be fun to make it with a machine with a bunch of those fancy stitches that I rarely use!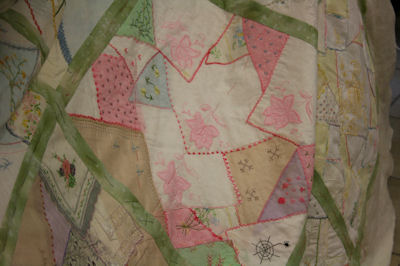 And here's a photo of some handkerchiefs and linen napkins that another member brought, laid out in practice for making a whole block: