New Learning Experience: Braxton's Baby Bibs
Since I had already purchased the alphabet and head shot embroidery files that I used to make Braxton's quilt, Braxton's nana thought it would be a nice addition to his wardrobe to add some embroidered bibs, too.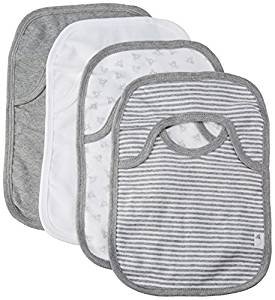 While I am not new to machine embroidery, I have never embroidered on anything other than quilt cotton, towels and washcloths. Nana purchased 100% cotton rib knit bibs with knit terry on the backs <gulp>. After some quick but extensive research, and after querying another machine embroiderer with much more experience than I have, I figured out my game plan. My main source of inspiration came from this blog post.

I inserted a ball point needle in my embroidery machine. The bibs were washed before I embroidered them. It is a layering process to embroider on knit fabrics. I used a stiff cutaway stabilizer on the back of the bibs, then used a temporary spray-on adhesive on top of the stabilizer. I laid the bib on the stabilizer and positioned it until I was satisfied that there were no wrinkles and that it would be centered in my hoop. Then I hooped the layers, again making sure I centered the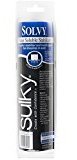 bibs by using a ruler. I then cut a piece of Sulky's® Solvy Water Soluble Stabilizer and centered it where I wanted the embroidery placed. I pealed off the backing and stuck the stabilizer to the front of the bib. Using the ruler again, I measured horizontally and vertically and marked the center of the area that I was to embroider. So far, so good!
I was nervous. I only had one shot at each one of the bibs as it is pretty easy to rip out embroidery stitches on 100% quilt fabric but it's not so easy to rip out stitches on knit fabric!
I chose to embroider the stag head shot first. It was the one that embroidered so beautifully on Braxton's baby quilt and the thread didn't break once. I took a deep breath, re-checked the area on my embroidery machine where the head shot was to be embroidered – said a little prayer – and hit the start button. Guess what? It turned out beautifully!!!
I was still extremely vigilant with the remaining three bibs but all four turned out spot-on and I was so pleased with myself, my machine and with the finished product. They were sent through the washing machine again to remove the water soluble stabilizer. Finally, I packaged up and sent to Braxton's mommy and she loved them, too!